Posted on
Wed, Feb 15, 2012 : 9:04 a.m.
Rod Jones leaves Skyline football to coach for Charlie Weis at Kansas
By Pete Cunningham
Melanie Maxwell I AnnArbor.com
When Skyline High School hired former NFL offensive lineman Rod Jones as its varsity football coach last spring, he said he'd be there "as long as you'll have me."
After just one year on the job, a change of heart will take Jones back to alma mater to be a coach on Charlie Weis' staff at the University of Kansas.
Jones said his goal is eventually coach in the NFL, where he played offensive line from 1996-2002 as a member of the Cincinnati Bengals, St. Louis Rams and Washington Redskins.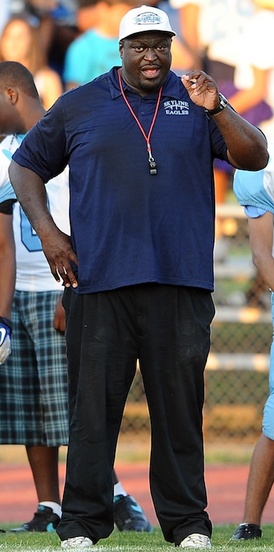 AnnArbor.com file photo
"I've had the opportunity to play a the highest level and hopefully one day I can coach there," Jones said.
Jones will be at anything but the highest level next year as a graduate assistant and assistant defensive line coach for Weis, who replaced Turner Gill in December. Graduate assistant jobs are notorious for long hours and low pay in the form of university stipends and free tuition toward master's classes.
It's dues Jones knows he'll have to pay if he wants to move up in the coaching world.
"This is the path you have to take, there's really no other way around it, unless you're a big name," Jones said. "Offensive lineman, you kinda have to prove yourself."
NCAA rules state graduate assistants must be less than seven years removed from receiving a bachelor's degree. Despite being 16 years removed from his playing days at Kansas, Jones, 38, was eligible because he didn't receive his degree until 2010.
"My last semester, with agents, the NFL Draft, the Senior Bowl, I just never ended up finishing my degree," Jones said. "If I had finished up when I planned, when I walked and everything, I wouldn't be eligible. ... It all just worked out."
Skyline recently closed the application process and plans to begin interviewing candidates at the end of February or beginning of March.
Jones' replacement will be the school's third varsity football coach in as many years. Jones took over for Randy Hutchison last season after Hutchison-- who built the Eagles' program since the school consisted of only freshmen -- resigned to devote more time to his full-time job.
Jones led the Eagles to their first-ever varsity win in their season opener last fall. The team finished 3-6.
Jones, who worked as a teaching assistant at Skyline, said telling his players he was leaving was tough.
"Some of them were pretty disappointed, pretty disheartened. They were really looking forward to playing for me and it's unfortunate," Jones said. "I got some pretty sad emails."
Contact Pete Cunningham at petercunningham@annarbor.com or by phone at 734-623-2561. Follow him on Twitter @petcunningham.