Posted on
Tue, Nov 13, 2012 : 1:32 p.m.
Rudolf Steiner volleyball team looks to add to historic season at Tuesday's Class D quarterfinal
By Matt Durr
As one of the final eight teams in the Class D state volleyball tournament, Ann Arbor Rudolf Steiner should be feeling the pressure of being three wins away from winning a state championship.
But when the Storm players talk about Tuesday night's state quarterfinal game against Mendon High School, pressure is the last thing on their minds.
The Storm posted a 44-9-5 overall record on the season, with none of the team's losses coming against Class D opponents
Knowing that they can compete with any team in the state has been a huge motivation for the Storm. And now that the team is just three wins away from a state championship, senior captain Tessa Belanger admitted that she has thought about what it would mean to make it to Battle Creek, but refused to acknowledge any pressure.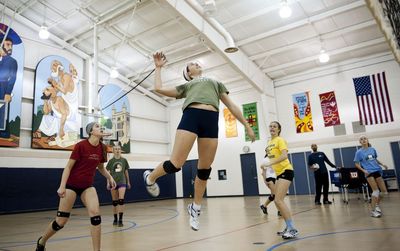 Daniel Brenner | AnnArbor.com
"I've definitely dreamed about it, meditated about it. But I wouldn't call it pressure, it would be excitement," Belanger said. "I think pressure has a negative vibe to it."
"The next couple of games are the icing on the cake. We've already had an incredible, really successful season. I'm very calm and I'm very excited, but it's not stressful," said Belanger.
Already the most successful team in the school's athletic history, Belanger and her teammates are approaching the matchup as just another game. Even though a victory would send the Storm to Battle Creek this weekend for matches at Kellogg Arena,
"We were talking about it and we just want to go out playing really well. We just want to play Storm volleyball," said sophomore Molly Rajewski.
The lack of pressure was evident at Monday's practice where players and coaches were not focused so much on the X's and O's, but more on the mindset of the team.
"We try to keep the practices pretty chill and a relaxed environment. So that it's not really high pressure," Rajewski said.
The 12 players on the team make up more than 10 percent of the small school's student population. As the Storm progressed through the tournament, the support from those inside the tight-knit community increased.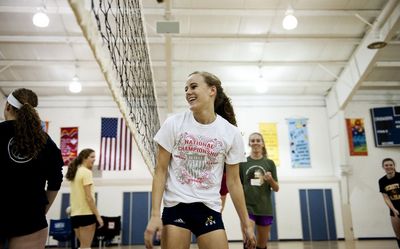 Daniel Brenner | AnnArbor.com
"Our community is really close, not just on the team, but everyone at the school. And you definitely feel it," Belanger said. "Our teachers know what we're doing and so they've been more lenient with assignments, which sounds like a small thing, but it actually is really helpful."
That support reached a peak at last Thursday's regional final at Bellevue High School when more than 80 students attended the game that was nearly 90 minutes away from the Rudolf Steiner campus.
"The support of all of classmates and teachers and faculty has been amazing. To have 75 percent of our student population at our game last Thursday, that was awesome," Bellanger said.
Donors and boosters for the school chartered buses that picked students up and dropped them off so that the team could have as much support as possible when they took the court.
And they'll be doing it again for Tuesday's game at Litchfield High School.
Co-head coaches Alex Perrin and Chris Cristian say the impact of having that many fans show up goes beyond anything they can teach the girls in practice.
"It puts them in a great place emotionally. They feel so supported and cared for. They feel secure. It puts them in a good place and as coaches all we have to do is make sure to support that," Perrin said.
Cristian echoed the sentiment.
"We just have to reassure them of their skills and remind them of everything they worked on during the season. And they can go out there and put it down, because they know they have the support of the fans," Cristian said.
The coaches called the season's success a perfect storm of talent.
Three years ago the team had only eight players, seven of whom were freshmen. But as the team grew, the coaches knew that some of the middle school students would be a big help once they reached high school.
"Even three years ago we could see it. This group, plus the group that was coming behind it would make a formidable team. So two years ago we decided to ramp things up. No more casual volleyball," Perrin said.
Both coaches said last year was a bit of a stepping-stone as the group learned to play together as a team and learned about the difficult path they would have to navigate to get to a state final.
Rudolf Steiner plays Mendon at 7 p.m. on Tuesday at Litchfield High School.
Matt Durr.