Posted on
Thu, Sep 5, 2013 : 7:58 a.m.
Saline and Ypsilanti head into Week 2 with ongoing quarterback battles
By Kyle Austin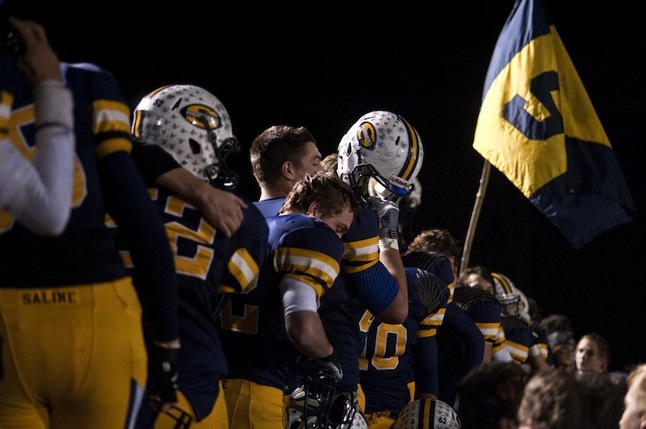 Joseph Tobianski | AnnArbor.com
There'll be two teams on the field at Saline High School Friday night, and four quarterbacks all vying for a spot on it.
Both Ypsilanti and Saline enter the Week 2 AnnArbor.com Game of the Week with quarterback battles that went through the preseason and into the regular season with no signs of slowing down.
And both are hoping they can find the right mix of the two to pull out a win in the 7 p.m. and head into next week's SEC crossovers on a high note.
For Saline, Trent Theisen and Travis Brown will both see time at quarterback. And if Friday is anything like the Hornets' opening win against London A.B. Lucas, coach Joe Palka will have a tough decision on his hands.
Brown went 6-for-6 for 106 yards and a score Friday, while Theisen went 5-for-8 for 81 yards and a score.
"They continue to be almost equal," Palka said.
Palka said his original plan was to rotate both through the first three games of the season before trying to settle on one. He plans on sticking with that.
"I'm kind of at a point where we're going to let whatever happens happen," Palka said. "If one of them does separate themselves and we need to use another one in another area of the team, I think that could happen."
Saline came into the season thinking it had two No. 1 quarterbacks and two No. 1 running backs. But they're down to one running back, after Kevin Gross went down with a lower leg injury on the Hornet's third play from scrimmage and didn't return.
Palka said Tuesday that Gross was diagnosed with a broken leg that will require surgery. He will miss the rest of the season.
That will leave the bulk of the running load to Griffin Wooley, who ran for 448 yards last season.
"Griffin's a true number one, we felt like we had two number one type kids," Palka said. "Unfortunately when we go to two backs, which we like to do, that limits us a little bit more. But we feel real good about Griffin and what he can do."
In Ypsilanti, Mike Caldwell and Marquis Smith both saw action in the team's season-opening 13-6 loss to Milan.
Grizzlies coach Rufus Pipkins said he will continue to platoon the two players who he said are similar in talent level.
"It's one of those things like a basketball team," Pipkins said. "Whoever has the hot hand."
And while the Grizzlies' offense struggled, its defense gave up 13 points to a Milan team that averaged 31 points per game last year and helped Ypsilanti stay in a close game until the end.
Going into week two, Pipkins said his team is trying to eliminate some of the mistakes that led to a costly 140 penalty yards.
"You really have to be careful about the type of mistakes that we have to clear up, because they're aggressive mistakes," Pipkins said. "They're penalties where you don't want to tone down your kids too much because you take away what makes our defense good."
Kyle Austin covers sports for AnnArbor.com. He can be reached at kyleaustin@annarbor.com or 734-623-2535. Follow him on Twitter @KAustin_AA.