Posted on
Thu, Feb 7, 2013 : 12:31 a.m.
Saline beats Pioneer for third straight wrestling district title and Manchester wins eighth
By Pete Cunningham
Through the first 10 bouts of the Division 1 District final at Saline High School on Wednesday, no more than eight points had separated the Pioneer and Saline wrestling teams.
Starting the meet at 189 pounds made for an exciting back-and-forth, but Pioneer coach Bill Petoskey knew his team would need more than just hang with Saline to have a chance.
Pioneer would need to be well ahead.
A last second pin by Quandre Thomas at 140 pounds gave Pioneer a 25-22 lead in exciting fashion, but with four matches remaining, Petoskey knew it wouldn't be enough.
Saline won the final four matches for a 43-25 district final win.
More coverage: Saline vs. Pioneer | Pioneer vs. Skyline | Huron vs. Saline | Tournament bracket

"We knew we needed to have a decent lead in order to accomplish (a win over Saline), but the kids fought hard," Petoskey said. "It was a good, tough one. I'm proud of the kids, we just can't give up the pins."
It was the Hornets' third straight district title.
"For these seniors to finish the way they did, it puts an exclamation point on what they've done with three straight district championships," said Saline coach Scott Powers.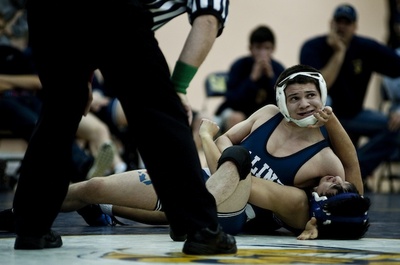 Daniel Brenner | AnnArbor.com
Saline advances to next Tuesday's regional round of competition where it will take on Temperance Bedford at Westland John Glenn High School.
While the final four matches may be where Saline officially won the dual, it was Saline's wins at 130 and 135 that turned the match.
Saline's Collin Green was able to ride out Will Murphy for the entire third period for a 2-0 win at 130. At 135, Saline's Nate O'Sullivan came back after surrendering an early takedown on an ankle pick to Robert Freter to win 10-5.
After an intense third period in which O'Sullivan was able to hold on, Pioneer lost a team point after Freter shoved O'Sullivan after the final whistle and Saline led 22-19.
Powers didn't read too much into the Freter shove or a couple other matches where tensions carried over off the edge of the mat and beyond the whistle.
"It's a sign of healthy wrestlers going at it," Powers said. "It's all in good fun. There's no hard feelings."
Though Thomas' dramatic last second pin temporarily put a jolt in the Pioneers, it was short lived as Saline won by pin at 145 (Dustin Funk over Sidney Anderson) and 152 (Alex Cornelius over Salamah Wadi) and took a void at 160.
Pioneer defeated Skyline in the semifinals 50-21 and Saline defeated Huron 70-7.
Against Huron, Saline's Taylor Ticknor recorded his 150th career victory with a second period pin over Edgardo Portillo.
Manchester wins eighth straigth district title
Manchester began its first postseason as a Division 3 team on Wednesday and did what its done for years in Division 4: win a district title. The Flying Dutchmen won their eight straight district title with wins over Clinton and Brooklyn Columbia Central. (Story at MLive.com)