Posted on
Fri, Jun 7, 2013 : 9:47 a.m.
Saline boys golf shoots season-best score to take regional title
By Kyle Austin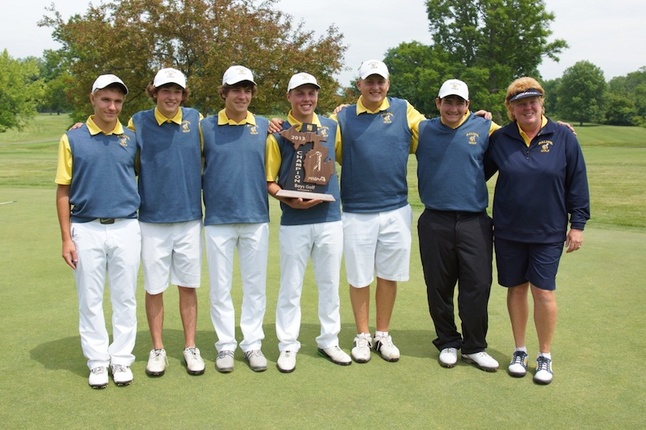 Courtesy of Saline Athletics
Saline had four golfers shoot in the 70's and shot a season-low 297 to take a regional title Thursday at West Shore Country Club in Grosse Ile.
More Coverage: Boxscore
"The guys played great," Hornets coach Debbie Williams-Hoak said. "It's an old cliche, but we had four scorers in the seventies, and any time you can do that, you're going to have success.
Saline senior Caleb Wittig won medalist honors by shooting a 70. Ian Martin shot a 73, Ryan Peruski shot a 76 and James Alcock shot a 78.
With the title, Saline advances to play in the Division 1 state finals next weekend at Forest Akers West.
"We're peaking at the right time," Williams-Hoak said. "We had a lot of grueling tournaments one after the other. In the last couple of weeks, we've been able to really focus on getting better. Our goal is to get to the state tournament and finish as high as possible. We still have our work cut out for us."
Joining them there will be Connor Lang of Skyline, who shot a 73 to earn one of three individual spots in the state finals.
As a team, Skyline finished in fourth with a 309, seven shots shy of qualifying for the state finals. Pioneer shot a 318 and finished in 5th and Huron finished in 6th with a 323.
Division 3 at Cascades Golf Course
Boxscore
Father Gabriel Richard's Andre Scopone shot an 80 to grab one of three individual spots in the Division 3 state finals.