high school football:

Saline defense, once considered a weakness, now a strength for Joe Palka's Hornets

Posted on Fri, Sep 14, 2012 : 11:06 p.m.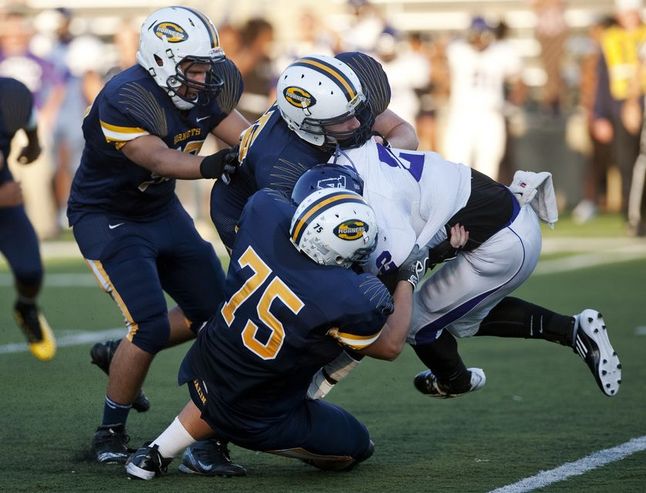 Daniel Brenner | AnnArbor.com

After forcing six turnovers in Friday night's 7-6 loss to Pioneer, Saline head coach Joe Palka is starting to see the big play ability he wants from his defense.

"I thought our defense played very well, too. We played well enough defensively to win. We tried to mix looks and mix fronts and get penetration. They held on to the ball quite a bit, but by and large we created turnovers," Palka said.

The Hornets forced Pioneer into three fumbles -- one on a botched snap on a field goal attempt -- and three interceptions on the night. Four of those turnovers came when the Hornets were backed up in their own defensive zone.

"I think our guys were active and we're getting better in the secondary," Palka said. "We're breaking on balls and we're competing for balls that are up in the air that are jump balls.

"All of a sudden now, we're starting to come up with some of those. I was really pleased with our defensive progress tonight."

Palka pointed out the play of senior defensive lineman Casey Schukow as a highlight in Friday's game. After challenging Schukow to step up against Pioneer, Palka said he did just that.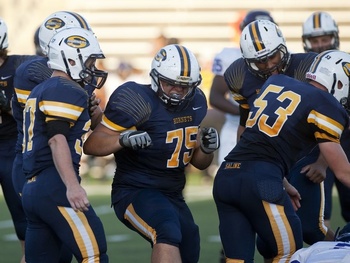 Daniel Brenner | AnnArbor.com
"We felt Pioneer had very good offensive lineman and we told him this could be one of his biggest tests all year," Palka said. "Great players rise to the occasion and I thought that he really brought it tonight."
Prior to the season, Palka was concerned about how the defense would develop. While the offense was able to practice in the spring and do seven-on-sevens over the summer, the defense was waiting for the new coordinator to arrive.
"When coach (Ron) Shiels got here, he got here late and we installed the defense kinda late," Palka said "I thought it would take some time, but I really think we're coming into our own defensively."
So far this season, the Hornets have yet to surrender more than 20 points in a game and in their 58-20 win over Adrian last week didn't allow any points in the second half.
The Hornets have allowed just seven touchdowns all season and only one in their last six quarters of football.
"We're continuing to gain some depth there, we're continuing to see kids step up and I think we're getting more used to the scheme," Palka said.
One of the players to step up is Brandon Gordon who had two interceptions against Pioneer, one of which came on the goal-line.
"Brandon Gordon really stepped up tonight, we really noticed him," Palka said.
As the team continues to get more comfortable running the scheme, Palka said they can start adding more to the playbook. With Southeastern Conference play now in full swing, Palka knows that his defense will need to continue making plays if the Hornets want to win the Red Division, especially now with a blemish an early blemish on their league record.
That growth continues next week when the Hornets travel to Bedford for a road contest with the Kicking Mules.
"I do know this, that we have to get better on both sides of the ball to have a chance against a real good Bedford team."
Mat Durr covers sports for AnnArbor.com.