Posted on
Tue, Nov 6, 2012 : 6:34 p.m.
Saline defensive linemen look forward to challenge of facing talented Detroit Cass Tech front
By Kyle Austin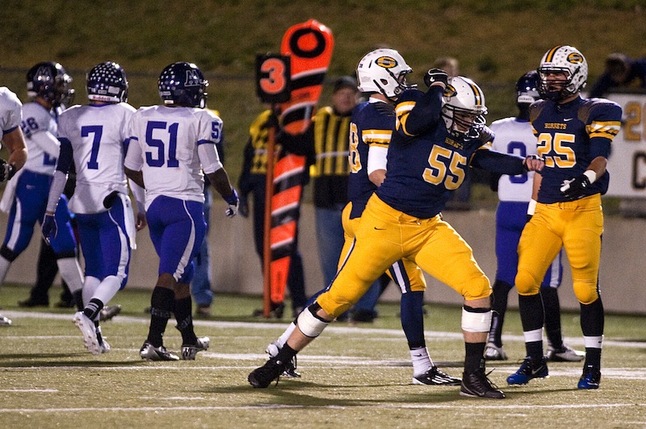 Joseph Tobianski | AnnArbor.com
Casey Schukow and John Smutny know that when they take their positions on the Saline defensive line Friday night, they'll see some big bodies lined up across from them.
But that's nothing new.
The Hornets Friday night regional final opponent,
Detroit Cass Tech
, features two of the four best senior offensive line recruits in the state, according to Rivals.com.
David Dawson
(6-foot-4, 282 pounds), has six Big Ten offers, and
Dennis Finley
(6-6, 285), who is committed to Michigan State.
Schukow (6-0, 275) and Smutney (6-2, 220), who anchor Saline's defensive line, will praise the two as good players, but don't come off as overly worried about it.
"We saw some film, they're big up front, they've got some really good offensive linemen, some good skill guys," Schukow said. "But you know what, we've seen big guys, we've seen fast guys. It's nothing new."
Saline will host Cass Tech, the defending Division 1 state champion, in a 7 p.m. game, with the winner advancing to face either Lake Orion or Macomb Dakota. Saline, at 10-1, has already set the school mark for single-season wins.
The Hornets' defensive line has been a big part of that, and is facing one of its toughest challenges on paper this week in Cass Tech. Last week in a second-half comeback win against Dearborn, Cass Tech recorded more than 300 yards rushing.
The Hornets defensive linemen are counting on speed and good technique to slow them down.
"It's not the strongest guy that always wins, it's the lowest one," Smutney said.
Smutney, a junior, lines up as defensive end, while Schukow is a nosetackle and defensive tackle. Hornets coach Joe Palka said both have been able to use their speed to get into opposing teams' backfields.
"They're hard to cut off, so guys on the back side, a lot of times you think you have them cut off and you don't, so that's where we make a lot of plays, from the back side," Palka said.
Having those two anchoring the line has also helped the growth of fellow starters Ben Elliott and Dominic DeMelis, Palka said, for a group that's improved throughout the year.
The two combined for three sacks last week against Pioneer, one for Smutney and two for Schukow, part of a five-sack Saline game. Schukow's second sack came late in the game, when he got a good jump on a snap, found room in the middle, and sacked Pioneer quarterback Brandon Bertoia while he was still backpedaling.
"All I remember is the center flinched his hand, and the next thing I knew I was on the quarterback," Schukow said.
Against the Pioneers last week, Saline gave up 181 yards rushing, but only 100 through the first three quarters as it jumped out to a 24-3 lead. The week before, Temperance Bedford ran for 130 yards in the opening round of the playoffs.
Cass Tech may be their toughest test yet, but it's something they're looking forward to.
"We love it, we look at is as a great opportunity," Schukow said. "To be the best you've got to beat the best. Cass Tech is a heck of a football program."
Game of the Week coverage:
The Saline vs. Cass Tech game will be the AnnArbor.com "Game of the Week" after receiving 647 of the 853 votes (75.9 percent) in our interactive poll.
AnnArbor.com will give the Game of the Week winner its Super Bowl treatment, which will include two reporters covering the game, a live chat that you can follow from your iPhone or Android device, and a photo gallery as well.
Kyle Austin covers sports for AnnArbor.com. He can be reached at kyleaustin@annarbor.com or 734-623-2535. Follow him on Twitter @KAustin_AA.