high school football:

Saline dominates field position, time of possession in victory over Ypsilanti

Posted on Fri, Sep 2, 2011 : 11:53 p.m.
Without a game-winning field goal, or at least one of significant distance, it's not often a kicker will be credited as a main reason for a football team's success. But Saline's Dylan Mulder was deserving of that praise after Saline's 30-8 win over Ypsilanti on Friday night at Hornet Stadium.
With booming kickoffs out of the end zone, Mulder kept the ball out of the hands of Ypsilanti's dangerous return men and put the Phoenix 80 yards from the end zone every time it touched the ball.
Saline's defense then finished the job, holding Ypsilanti to just 106 yards of offense on the night.
More coverage: Boxscore at MLive.com | Photo slideshow | Friday night roundup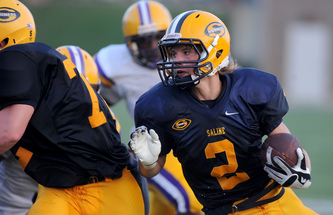 Angela J. Cesere | AnnArbor.com
"Our goal is always to kick it out of the end zone, but especially tonight because their return guys are really good," said Mulder who also had four extra points and a 24-yard field goal.
"We've said all year our special teams players are pretty good," said Saline coach Mike Glennie, counting punt returner Brandon Gordon in his praise. Gordon had five punt returns for 91 yards on the night. "It gave us a short field all night long."
Saline never picked up huge chunks of yards with its spread-the-wealth rushing attack, but with optimal field position the Hornets didn't need to. Four different ball carriers -- Reece Dils, Justin Barnes, Ike Nwokeji and Gage Hammond -- scored touchdowns.
Saline jumped out to a 20-0 lead with all three of its scoring drives starting in Ypsilanti territory. Mulder would kick the ball out of the end zone, the defense would stop Ypsilanti, then Gordon's returns would give the Hornets a short field to work with.
"They have a great kicker and they took advantage of the field position," said Ypsilanti coach Jason Malloy. "It's an advantage, it's a weapon. They've got a heck of a kicker and he's been kicking like that since last year.
"We knew we were going to have a hard time in the return game."
Ypsilanti (1-1) managed to get on the board on a 12-yard Austin Sanders run with 1:10 left in the second quarter the only drive of the half in which the Phoenix started in Saline territory.
Making things worse for the Phoenix was an interception in the first half and a lost fumble in the second. With Saline holding a more than 10 minute advantage in time of possession, turnovers wasn't something Ypsilanti could afford.
"They're a team that you can't commit turnovers against," Malloy said. "With as many guys as we have, as few guys as we have, we can't afford to make turnovers, we can't afford to get in bad field position time in and time out."
Barnes led Saline (1-1) with 15 carries for 63 yards, while Nwokeji had 10 carries for 58 yards and had eight tackles, including two sacks on defense.
Contact Pete Cunningham at petercuningham@annarbor.com or by phone at 734-623-2561. Follow him on Twitter @petcunningham.