Posted on
Fri, Apr 26, 2013 : 12:35 p.m.
Saline girls track wins record-setting Team of the Week poll
By Kyle Austin
We've done 27 total high school polls during the 2012-13 school year, from football Game of the Week polls to basketball Game of the Week to spring sports Team of the Week.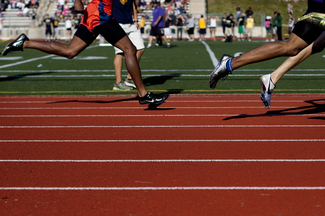 AnnArbor.com file
But none was bigger than the Team of the Week poll for for April 29-May 4.
This week's poll had garnered more than 3,200 votes — our first poll to crack the 3,000 mark — when it closed at noon Friday.
And nearly 40 percent of those went to the Saline girls track team, which mounted a social media campaign and brought out the vote like no other team has this year. Huron boys golf also put up a strong showing, with just more than 1,000 votes.
But the Hornets will be the focus of our high school sports coverage next week, including features, event coverage, photos and more.
The Hornets will be competing twice at home during the next week. On Tuesday, they are scheduled to host Huron in an SEC dual meet, and on Friday will host the Golden Triangle meet, where several other local schools are scheduled to attend.
Next week marks the start of May, and the weeks remaining in the spring season are numbered. So be sure to get your vote in when our next Team of the Week poll opens Monday.