Posted on
Mon, Nov 5, 2012 : 12:17 p.m.
Saline holds lead over Gabriel Richard in AnnArbor.com Game of the Week poll for this weekend's regional finals
By Kyle Austin
We've gone from an invitational to a dual match: the two remaining Washtenaw County teams in the MHSAA football playoffs are going head-to-head in this week's AnnArbor.com Game of the Week poll.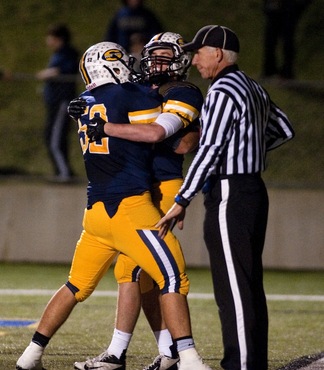 Joseph Tobianski | AnnArbor.com
As of noon Monday, Saline vs. Detroit Cass Tech, the defending Division 1 state champion, had 283 votes, while River Rouge at Father Gabriel Richard had 105.
But Irish fans have time to mount a comeback: this week's poll will stay open until 6 p.m Tuesday. Fans can vote once an hour until then.
Both teams will be playing for the first regional titles in school history this weekend. The Hornets will play Friday at 7 p.m., while Gabriel Richard will play Saturday at 1 p.m. Both teams will play at home.
Regional finals double as the state quarterfinals, two steps away from the state finals, which will be held at Ford Field in Detroit over Thanksgiving weekend.
Game of the Week coverage:
AnnArbor.com will give the Game of the Week winner its Super Bowl treatment, which will include two reporters covering the game, a live chat that you can follow from your iPhone or Android device, and a photo gallery as well.