Posted on
Fri, Jun 15, 2012 : 4:27 p.m.
Saline loses baseball state semifinal to Hudsonville, 4-3
By AnnArbor.com Staff
BATTLE CREEK -- There's a reason it's called a "suicide squeeze." It's a play that can bring triumph or tragedy.
Unfortunately for the Saline High School baseball team, it suffered the latter in a 4-3 loss to Hudsonville in a Division 1 state semifinal game at Bailey Park in Battle Creek.
The Hornets, who successfully employed the play twice in a quarterfinal win against Livonia Stevenson earlier this week, saw a sixth-inning rally -- and their bid for a state championship -- end when it failed on Saturday.
"We've had some success with it this season, it's worked for us. It's a play we feel good with. We just didn't get it down," said Saline coach Scott Thesien. "It's worked for us and we're just going to keep playing our game."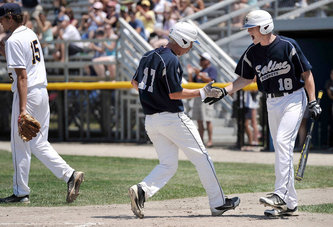 Matthew Busch | MLive.com
With one out in the top of the sixth inning, Saline trailed the Eagles 4-3 with runners on first and third base.
With A.J. Korzuck charging home from third, Gage Hammond attempted to lay down a bunt, but missed. Hudsonville catcher Rob Greenman caught Korzuck in a pickle and eventually tagged him out.
Hammond would then strikeout to end the threat. It was the closest the Hornets got to tying the game after losing a 3-0 lead in the fourth inning.
Related content: Boxscore | Division 1 bracket | Photo gallery
The Saline bats started the game hot, scoring three runs in the first three innings and leaving the bags loaded to end the third.
Michael Hendrickson got the Hornets going with an RBI double in the second and, two batters later, Patrick Price doubled in Hendrickson.
In the next inning, Saline scored again on a double by Andrew White.
Coming off a no-hitter in a regional final, Saline starting pitcher Justin Goike didn't allow a hit for the first two innings. Hudsonville finally broke through in the third and got four consecutive hits, including two infield singles.
One of appeared to be a missed call by the first base umpire. Hudsonville's Brandon Cable hit blooper in front of White, who was playing second base. After fielding the ball, White looked to have thrown Cable out at first, but he was called safe.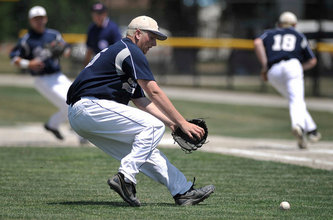 Matthew Busch | MLive.com
"It looked like he was out to me," said Goike. "I don't know what the ump was watching. That was huge."
Hudsonville scored two runs after the call. Theisen said the runner looked out to him, too, but wouldn't say it was blown call.
"It was a bang-bang play," Theisen said. "Those calls are going to happen in a big game and they're magnified by the importance of the game.
"Justin handled it well, he didn't let it explode. He gave up a couple and then a couple in the next inning and that was the difference."
An RBI double by Hunter Prince broke a 3-3 tie in the fourth inning and put the Eagle ahead for good.
Goike pitched a six-inning complete game for the Hornets, giving up four runs on nine hits.
"They had a couple big breaks that didn't go our way," Goike said. "It just wasn't our day."
After a hot start, Saline managed just one hit over the final four innings against Hudsonville starter Blake Hibbitts and reliever Logan Magsig.
"Sometimes that's baseball. What can you do?" Theisen said. "You play a one-game elimination tournament. Sometimes it works in your favor, sometimes it doesn't."
The Hornets headed home from Battle Creek without a state championship for the fourth time in the last five years. This was the first time the Hornets failed to reach the final game in the stretch.
Theisen remained impressed with how his team played all season long.
"I'm extremely proud with how they played all season. Today was no different," Theisen said. "They did exactly what we asked them to do. It's tough when you get beat and you don't play as well as you want."

More from Battle Creek
Other baseball semifinals
Division 1: Warren DeLaSalle 3, Howell 2 (Boxscore | Coverage)
Division 2: Bay City John Glenn 6, St. Joseph 5 (Boxscore | Coverage)
Division 2: Grand Rapids Christian 4, Dearborn Divine Child 0 (Boxscore | Coverage)
Division 3: Madison Heights Bishop Foley 6, Saginaw Nouvel 2 (Boxscore | Coverage)
Division 3: Lansing Catholic 8, Mancelona 1 (Boxscore | Coverage)
Division 4: Grosse Pointe Woods University Liggett 15, Rudyard 3 (Boxscore | Coverage)
Division 4: Decatur 3, Muskegon Catholic Central 2 (Boxscore | Coverage)

Softball semifinals
Division 1: Mattawan 5, White Lake Lakeland 4 (Boxscore | Coverage)
Division 1: Hudsonville 13, Garden City 3 (Boxscore | Coverage)
Division 2: Saginaw Swan Valley 2, Coloma 1 (Boxscore | Coverage)
Division 2: Livonia Ladywood 4, Wayland Union 2 (Boxscore | Coverage)
Division 3: Clinton 8, Unionville-Sebewaing 1 (Boxscore | Coverage)
Division 3: Gladstone 5, Springport 4 (Boxscore | Coverage)
Division 4: Dansville 4, Rapid River 3 (Boxscore | Coverage)
Division 4: Petersburg Summerfield 7, Mount Pleasant Sacred Heart 3 (Boxscore | Coverage)