Posted on
Wed, Mar 6, 2013 : 1:20 a.m.
Saline loses overtime regional semifinal heartbreaker 60-58 to Woodhaven
By Pete Cunningham
Trailing 60-58 with three seconds on the clock in overtime, Saline senior Emily Reyst got a steal at midcourt and spun toward the 3-point line to put up a game-winning shot attempt.
Reyst probably would have preferred not to have to spin to get it, but she had what every senior dreams of: an open look on a 3-pointer with her team trailing by two at the end of the game.
But the shot sailed left of the basket, and so ended the Saline High School girls basketball team's season.
In Saline girls basketball coach Jeff Waltz's admittedly biased opinion, this year's team was the best in school history. And in his informed opinion Tuesday's Class A regional semifinal performance was as well as the Hornets (14-9) have played all year long.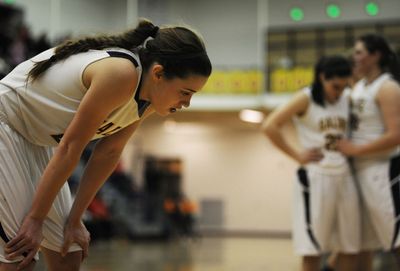 Daniel Brenner | AnnArbor.com
The Hornets came within one shot of making a regional final.
More coverage: Boxscore | Bracket
"We had our chances, everyone in the gym knows it, including (Woodhaven)," Waltz said. "We came out and played one of our best games all season. The seniors and everyone left it all on the floor."
Saline ended the first half with a slow, methodical four-corners offense, passing and dribbling back and forth with no intention on going toward the hoop.
Though the long drawn-out possessions at the end of the half ended in a Amanda Zylstra 3-pointer that gave Saline a 24-20 lead, that wasn't the way the Hornets would come out in the second half.
Woodhaven (21-3) is a run-and-gun team, and Saline came out and matched their tempo in every way.
"That team plays fast but once we got into halftime with them we realized we can play just as fast and we ended up taking some chances with that and making some shots," Waltz said.
"Some shots" included 8-of-9 from the field to begin the second half.
"They were a very disciplined team, I give them credit, and I think fundamentally they were on all night," said Woodhaven coach Ron Sharboneu. "I thought we outmanned them at a lot of positions, I thought we'd have an advantage, but then fundamentally they just took it to us."
But the 3-point obsessed Woodhaven finally had shots start to fall. Cassandra Breen made her third consecutive 3-pointer in the third quarter to tie the score 33-33. Breen finished with a game-high 21 points.
After missing all six of its shots from distance in the second quarter, Woodhaven went 4-of-10 from beyond the arc in the third.
"We take 3s no matter what, we normally take them win or lose," said Sharboneu.
But after Saline extended its lead to 48-42 with 4:05 left in the game for its largest lead of the game, Woodhaven abandoned the three and pounded the ball inside with Allison Manning and Whitley Curlie, who scored 12 of Woodhaven's final 16 points, all from the post or free-throw line.
"Toward the end of the fourth quarter I thought our post players really started posting and then we got the ball to them," Sharboneu said. "We got some really nice looks from our post players and normally we don't play a big post game.
"It was pleasant to see them realize what we needed at that time and they just read it."
After Woodhaven tied the game 48-48 with 2:34 remaining, there were nine additional ties or lead changes before game's end with no more than two points ever separating the two.
"It was a classic," Waltz said. "No (Saline) team's ever competed in a regional like they competed today."
Caitlin Ellis led Saline with 19 points and Melissa Needham had 16.
Pete Cunningham covers sports for AnnArbor.com. He can be reached at petercunnigham@annarbor.com. Follow him on Twitter @petcunningham.