Posted on
Mon, Jul 22, 2013 : 12:36 p.m.
Saline's Michael Hendrickson commits to Michigan baseball team
By Pete Cunningham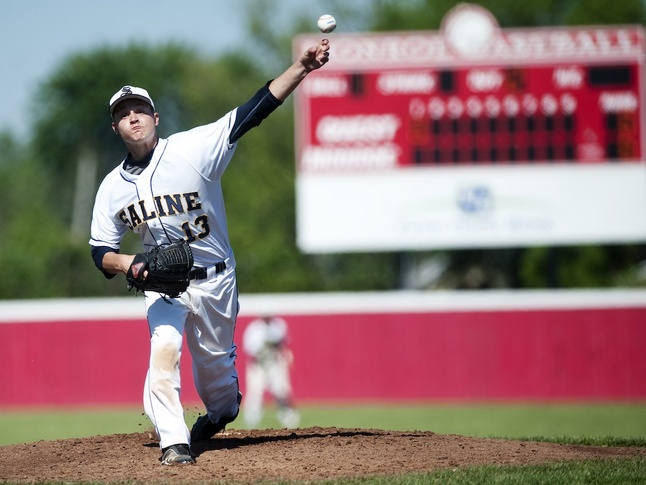 Daniel Brenner | AnnArbor.com file photo
Michael Hendrickson
wasted no time in choosing where he will play his college baseball. The
Saline High School
senior-to-be grew up a Michigan fan, so when a scholarship offer came to fruition over the weekend, his mind was made up.
Hendrickson will be a Wolverine.
The 6-4, 195-pound left-handed pitcher verbally committed to play at Michigan on Friday.
"Growing up as a Michigan fan, it's a great academic school and combined with the resources they have, there's just everything I need to be successful," Hendrickson said. "I'm really excited."
Hendrickson was 5-4 with a 1.38 ERA as a junior. He was 6-0 with a 1.74 ERA as a sophomore.
Though the pressure of choosing a school is gone, Hendrickson said the pressure to perform is something that never leaves him.
"I can just focus on grinding making the team better, winning a state championship and not have to worry about the future as much," Hendrickson said. "But there's always that thought of trying to improve and get better for the next step."
Hendrickson said he was also considering Duke, Wake Forest and UAB (University of Alabama at Birmingham). Though playing for major baseball conferences down south was enticing, Hendrickson said he's excited about playing in the Big Ten for second-year Michigan head coach Erik Bakich. Michigan was 29-27 (14-10 Big Ten) and finished tied for fifth in the conference in Bakich's first year.
"The Big Ten's on the rise and it's something I want to be a part of," Hendrickson said.
"I'm happy for him, happy for his family I know it's a big relief for him," said Saline coach Scott Theisen.
Theisen said its great for the Saline program as a whole to have players making it to the Division I program just down the road.
"It shows you can do these things coming out of Saline, you don't have to be at Birmingham Brother Rice, winning state championships every year," Theisen said. "It's an inspiration to younger kids and it's a great accomplishment for Michael."
Hendrickson said he will still play basketball as a senior. He averaged 10.6 points for the Hornets last year.
Pete Cunningham covers sports for AnnArbor.com. He can be reached at petercunningham@annarbor.com. Follow him on Twitter @petcunningham.