Posted on
Sat, Jan 5, 2013 : 12:14 a.m.
Saline boys overcome tough shooting night to top Dexter at EMU's Convocation Center
By Kyle Austin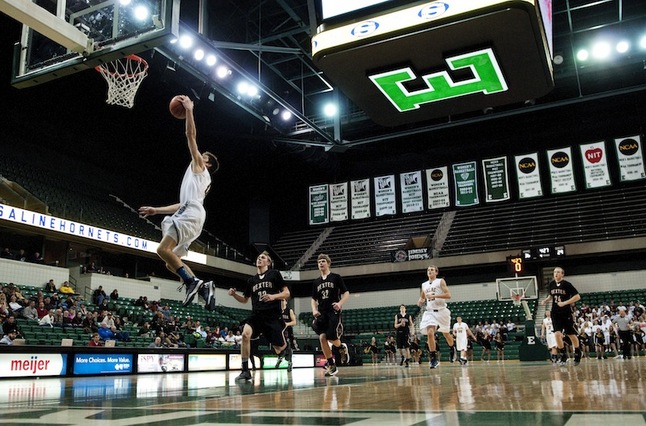 Daniel Brenner I AnnArbor.com
Maybe it was the different venue, or the Christmas time off, or the extended 3-point line.
Whatever the reason, both Saline and Dexter's boys basketball teams struggled from the floor when they took to the Convocation Center at Eastern Michigan Friday night.
Saline, though, fought through it a little better.
The Hornets fended off a second-half run and held on to beat Dexter, 43-37, to run its record to 5-2 on the year. Dexter falls to 2-4.
More coverage: Boxscore | Photo Gallery
But there was little celebration from Saline after a game in which coach Eric Williams said his team missed too many "bunnies."
"When we run our offense and we get those, obviously we're not going to hit all of them, but we need to hit a heck of a lot more than we did," Williams said.
Dexter went on a 12-0 run late in the third and early in the fourth. With a 3 by London Truman to open the final frame, Dexter got within three points for the first time all game.
But the Dreadnaughts turned the ball over its next time on offense, and gave up baskets on three of its next four defensive possessions as the Hornets went on a 12-4 run
"At that point, we had to at least exchange baskets with them, and we didn't, so they went on another little mini spurt, and that was pretty much the end of the game," Dexter coach Randy Swoverland said.
Guard Michael Hendrickson led Saline with 11 points, followed by Max Recknagel with 10 points and nine rebounds.
Derek Seidl finished with a game-high 15 points for Dexter. The Dreadnaughts played without senior guard Brandon Bellottie, who averages 11 points per game. Swoverland called his absence a team situation.
Saline jumped out to an early lead and led 25-13 midway through the third quarter, just before Dexter went on its run, led by 3-pointers from Ethan Kremkus and Truman.
"It was good to see us not roll over," Swoverland said. "I know it's hard to believe watching that, but we are a little better shooting team than what we played tonight, we usually shoot the ball a lot better than what we did tonight."
After scoring less than 30 points in the first three quarters, Saline finished with 10 in the final five minutes to seal the game, including four from Erik Jacobson and Caleb Luckett.
Dexter moves on to face Ypsilanti Friday, while Saline will face Huron Saturday.
Game of the Week
Voting for our Game of the Week ends at noon Saturday.
Kyle Austin covers sports for AnnArbor.com. He can be reached at kyleaustin@annarbor.com or 734-623-2535. Follow him on Twitter @KAustin_AA.