Breaking into the SEC's upper-echelon a difficult task, Dexter baseball team learns in Saline sweep
Posted on Tue, May 8, 2012 : 10:43 p.m.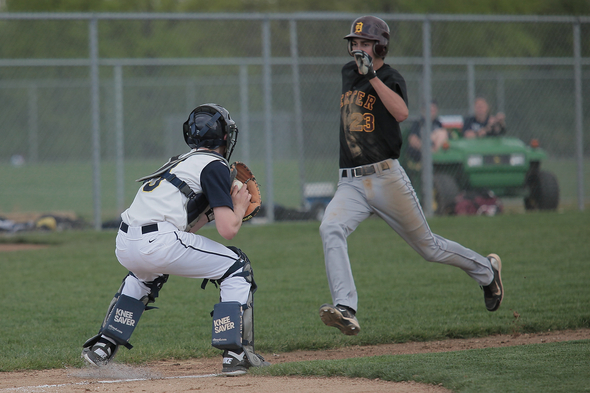 Chris Asadian | AnnArbor.com
It's been three years since Don Little took over the Dexter High School baseball program. All along, his goal has been to make the Dreadnaughts the king of the Southeastern Conference.
Little and his team got a taste of just how hard it is to knock the proverbial king off his throne Tuesday when the Dreadnaughts dropped both games of a doubleheader, 6-5 and 5-3, against perennial power Saline, despite leading late in both games.
After the games, Little said the series was a measuring stick for his team as it tries to assert itself as contenders in a on of the state's best baseball conferences.
"(Saline) is a program that you have to look up to. We know that they're a good ballclub. We're there, we're close," said Little. "They closed it and we didn't. We're just kind of learning how to win. We'll get there."
The teams entered the game leading their divisions of the SEC with 7-1 records. With the wins, Saline (SEC Red) improved to 17-4 on the year while Dexter (SEC White) dropped to 19-6-1.
Related content: Photo gallery | Game 1 Boxscore | Game 2 Boxscore
The second game of the crossover doubleheader did not count in the conference standings.
Dexter is one of a handful of SEC teams becoming more competitive in a conference that has placed a team in the state championship game in six of the last eight seasons. Learning how to take down a team like Saline, a three-time Division 1 state finalist in 2008-10, is just part of that process.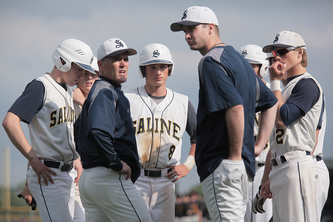 Chris Asadian | AnnArbor.com
Temperance Bedford played in the state championship game last season and Pioneer won state titles in 2004 and 2010.
This year, teams like Dexter, Skyline and Tecumseh are making it clear that they are not to be underestimated.
Saline coach Scott Theisen said that seeing the competition raise its game has motivated his players to work even harder to stay on top.
"Every year it's a challenge. I think it helps us, the tradition, kids expect to do things. They work hard in the offseason, they push each other in the offseason and we make gains," Theisen said. "There are no easy ones. It's a tough conference and you better come to play every day."
Saline found that out the hard way Tuesday. A couple of slow starts nearly cost the Hornets both games. Fortunately for the Hornets, experience paid off and they were able to stage two comebacks.
With Dexter leading 4-3 in the fifth inning of the first game, two walks and a hit batter loaded the bases for Saline's Michael Hendrickson. He drove in two runs with a double, giving the Hornets the lead for good.
In the second game, Dexter starting pitcher Dylan Pierce lost the command that served him so well early in the game and loaded the bases in the sixth before departing with a 3-2 lead.
Saline's AJ Korzuck tied the game with a single. The next batter, Matt Sopel ripped a pitch into center field to give the Hornets the 4-3 lead. His team would add another run before closing the game out in the seventh.
"He jammed me a little inside, but I fought through it and hit the ball up the middle," Soper said. "It was definite a confidence booster."
"It's a disappointment of course. Pierce threw an excellent game, but he was a little flat in the sixth inning," Little said. "He couldn't throw his off-speed stuff for a strike, which put us in a hole."
Little knows his team has a lot to prove still, and playing in such a tough conference will offer those opportunities.
"There's no doubt in my mind that the SEC is the best conference in the state. There's no doubt, I don't care who says anything about any other part of the state," Little said. "We have our work cut out for us. I'm proud that Dexter can be a part of that pack now."