Posted on
Fri, May 31, 2013 : 9 a.m.
Saline runner forgoing track state finals to observe Sabbath
By Pete Cunningham
The majority of high school athletes never make it to their sport's state championships. So in one sense, the fact that Saline senior Gabe Becton isn't running in this weekend's boys track and field state finals isn't that unique.
What is unique is that Becton has actually qualified for the MHSAA Division 1 boys track and field state championships and is not participating by choice.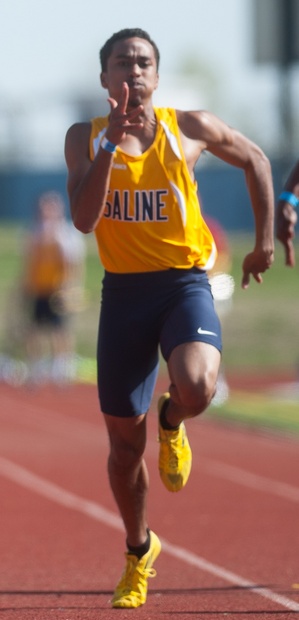 Courtney Sacco | AnnArbor.com file photo
Becton is a member of Saline's state championship qualifying 800-meter relay team, but he's also a member of Seventh-day Adventist Church, a Christian denomination that observes the Sabbath from sundown on Friday until sundown on Saturday. Becton chooses not compete on Saturdays to conform with the Christian Bible's fourth commandment which states, "Remember the Sabbath Day, to keep it holy."
"When you compete it's not really a holy thing to do. It can be all fun and games, but the people you're going against they become more your enemy than anything," Becton said. "I'm not saying everything I do on the Sabbath is holy. I walk, walking isn't exactly holy, but when you compete there's that mindset that all you want is to win.
"Your focus is on you yourself and everything you can do to win instead of concentrating on keeping the day holy and your relationship with God," Becton explained.
This has been no easy choice for Becton, and he said its one he still struggles with. This was especially so during the basketball season, when he - as a starter - had to miss nearly half the team's games.
He skipped last year's state championships, but coach Allan Leslie said the team was deep enough where his alternate was not a step down. Leslie said this year's sprint relay would likely garner all-state honors with Becton, but likely won't without him.
"It was a really hard decision because I did want to go really bad and want to go with my team and want to help them real bad," Becton said. "It still kind of sucks, but I've come to terms with it.
"It was my decision all along, but it's been difficult."
Becton said that never once have his parents or other church members demanded this strict observance of the Sabbath. He said this year his teammates have tried to convince him to put his beliefs on hold, and that it's been tough to say no.
Ultimately, he said his teammates still respected him for his decision.
"The relationship with the team is they love him and we understand it. You respect a kid that in this day and age makes a tough choice based on his beliefs," Leslie said. "He's such a solid kid it's hard to get mad at someone when they're doing things for the right reason."
Leslie said the situation wasn't as friendly in 2009 when Becton's cousin, Aarion Gross, made the same decision. As fast as Becton is - he holds Saline's individual record in the 100-meter dash (11.03 seconds), and his regional meet preliminary heat times were under the state qualification standard - Gross was faster. Becton could boost Saline's chances to place top-eight in the 800 relay, Gross would have been one of the favorites to win the 400. Gross holds the Saline High School record for fastest 400 (48.69).
"That team didn't adjust very well. " said Leslie. "It's just been a known with Gabe, and you can't really argue about those things. We've come to accept and respect it."
Becton said he's spoken with Gross about the decision before and both feel the same way. Part of them wishes they could run, but they believe they are better for not.
"I feel I've gained a stronger relationship I think with God and I always ask him to guide me in my decisions," Becton said.
MHSAA Boys track and field state championships
Division 1
at East Kentwood High School

When: Saturday, June 1.
Who: Pioneer, Skyline, Saline, Lincoln, Dexter, Ypsilanti.
Outlook: The teams in the area don't really have the elite talent to match the third place finish of Saline last year, or runner-up finish of Ypsilanti the year before. As Saline coach Allan Leslie put it, "You really need a top-level stud like (Steven) Bastien was for us last year, or (Austin) Sanders for Ypsilanti. We just don't have that this year."
The area does, however, have several individuals who should be all-state and some favored to win individual titles. Washtenaw County had four event champions and two runners up in 2012.
Dexter's Noah Gary had the top qualifying pole vault of 15-feet-7. The second highest was 14-feet. Lincoln's Tyree Waller is the top seed in the long jump after finishing runner-up last year.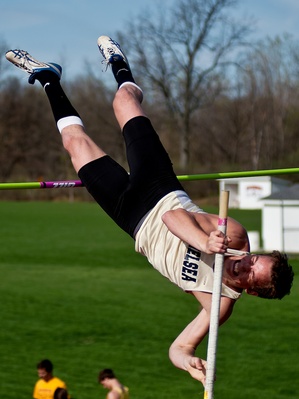 Division 2
at Forest Hills Eastern High School
When: Saturday, June 1.
Who: Chelsea, Milan.
Outlook: Chelsea could make some noise with the necessary elite level athletes, mixed with depth, but probably lack the strength in relays to contend for a title.
Berkley Edwards is the top-seed in the 100 and No. 2 in the 200. Michael Hovater is the top seed in the pole vault and teammates Travis Weiss and David St. Pierre could be on the medal stand with him as they are the No. 2 and 11 seeds respectively.
Milan's Kalif Kelsey is a one man team, but could fare better than most with several members as a No. 3 seed in the 100, No. 6 in he long jump and No. 11 in the 200.
Division 3
at Comstock Park High School

When: Saturday, June 1.
Who: Father Gabriel Richard, Manchester, Whitmore Lake.
Outlook: Gabriel Richard won a regional title, but it was one of the weaker regionals in Division 3. Michigan commit Blaise Stearns is the No. 6 seed in the 100.
Willow Run freshman Brandon Morgan has a bright future ahead of him, qualifying in both the 100 and 200, but the state meet will be a grown man's game.
Pete Cunningham covers sports for AnnArbor.com. He can be reached at petercunningham@annarbor.com. Follow him on Twitter @petcunningham.