Posted on
Sat, Nov 19, 2011 : 8:16 p.m.
Saline second at Division 1 girls swimming state finals; Huron, Skyline win individual titles
By Jason Idalski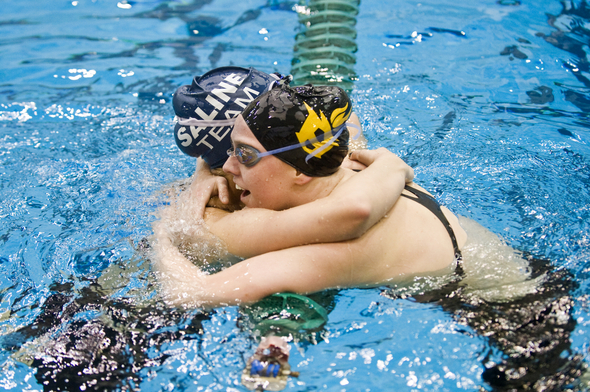 Joseph Tobianski | Ann Arbor.com
Before Saturday, only seniors on the Saline High School girls swimming team knew what it was like to lose a meet.
After finishing as runners-up to Farmington Hills Mercy in the MHSAA Division 1 girls swimming championship at Eastern Michigan University, now the underclassmen do too.
"I think our girls swam as best as they could," Saline coach Todd Brunty said. "I think (at Friday's preliminaries) we did enough to give ourselves a chance. And then (Saturday) we just didn't have enough. They beat us."
More coverage: Division 1 results at MLive.com | Photo Gallery | Division 2 & 3 results
Saline was looking for its third consecutive state championship. Mercy's win marks the first time since 1999 the girls' title was won by a team outside Washtenaw County. Pioneer won nine in a row from 2000 to 2008. Mercy was the Division 2 state champions from 2007-10 before moving up to Division 1 this year.
"I told them they've got to move forward right now," Brunty said. "They're like, 'How can you tell us just to move forward?' Because that's what you have to do to be back here again, to put yourselves in this situation again next year."
Mercy finished with 258 points to Saline's 243.5.
Individually, Huron's Anna DeMonte set a Division 1 state finals record while winning the 100 backstroke in a time of 54.56 seconds. She beat Pioneer's Ashley Cohagen's 2008 mark of :55.26.
DeMonte also won the 200 individual medley, finishing in 1:59.67, less than half a second from her own state record.
She is now a three-time champion in the event.
Also winning an individual title was Skyline's Ashleigh Shanley in the 100 breaststroke. Shanley's teammates Shannon Cowley and Lexie Beemer finished second and fourth in the event, respectively.
Skyline coach Maureen Isaac said she told each of her three swimmers that they had a legitimate chance to win the breastroke title -- and she meant it.
Beemer won the event two years ago at the Division 3 finals and Cowley was the Eagles' best finisher in the event at last year's Division 2 finals.
"What's really amazing is two years ago Lexie Beemer was a state champion and these other two kids come in here," Isaac said. "Instead of shutting them out, she was there to support them. They push each other in practice. When one of them is struggling, they lift each other up.
"For high schoolers, in particular, that's just an amazing dynamic."
The Saline relay team of Cristina Czyrka, Emily Lau, Sammy Richardt and Maddy Frost won 200 medley relay.
Huron was fifth with 153 points, Skyline sixth with 147 points and Pioneer 21st with 21 points.
Freshman diver Christina Lu was the Pioneers' lone all-stater, finishing in fifth place.

DIVISION 1 ALL STATE
Saline: 200 medley relay (1st), 200 freestyle relay (4th), 400 freestyle relay (3rd), Kate Rogers (200 free, 4th; 100 free, 7th), Cristina Czyrka (200 IM, 5th), Maddy Frost (50 free, 5th; 100 back, 3rd), Nikki Flynn (50 free, 6th; 100 free, 4th), Emily Lau (100 fly, 8th), Sammy Richart (100 breast, 7th).

Huron: 200 medley relay (2nd), 200 freestyle relay (6th), Anna DeMonte (200 IM, 1st; 100 back, 1st), Annie Tamblyn (50 free, 4th; 100 free, 2nd), Molly Gelb (diving, 8th).

Skyline: 200 medley relay (5th), Ashleigh Shanley (200 IM, 4th; 100 breast, 1st), Shannon Cowley (200 IM, 7th; 100 breast, 2nd), Lexie Beemer (100 breast, 4th).

Pioneer: Christina Lu (diving, 5th).

Jason Idalski covers sports for AnnArbor.com. He can be reached at jasonidalski@annarbor.com.