Saline sets national 200 medley relay record in state meet preliminaries
Posted on Fri, Mar 8, 2013 : 5:14 p.m.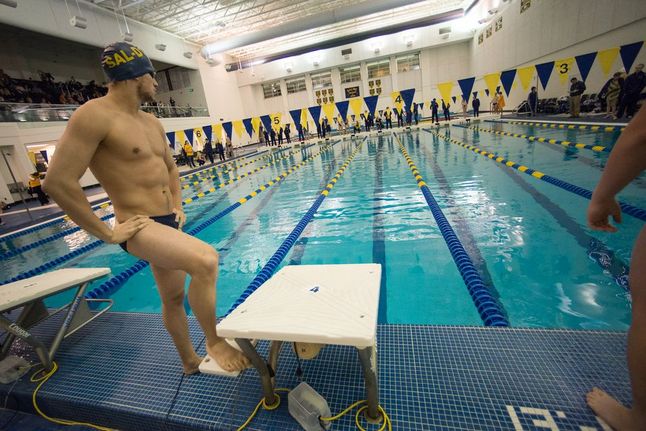 Courtney Sacco | AnnArbor.com
By Matt Gajtka, Mlive Media Group
HOLLAND -- Saline started its quest for a fourth consecutive state title by accomplishing something it's never done before: setting a national record.
Seniors David Boland, Josh Ehrman, Adam Whitener and Michael Bundas swam the 200 medley relay in 1:30.26, beating the state all-division record of 1:31.94 set by Bloomfield Hills Brother Rice in 1997 in the state meet preliminaries Friday at Holland Aquatic Center.
Boland said he and his teammates thought they were close to the national public-school mark immediately after they hopped onto the deck. A quick poolside Internet search confirmed it.
"It was a great moment when we found out," Boland said. "We had that goal in mind all season, but we needed to put it all together."
More Coverage: Complete Division 1 Preliminary Results
Boland (100 butterfly, 100 backstroke), Whitener (100 free, 200 free) and Ehrman (100 breaststroke, 200 individual medley) led the preliminary field in a pair of events each, while Bundas' 21.21 edged Holland West Ottawa sophomore Tabahn Afrik (21.29) for the meet's best in the 50 free.
Yet Saline's quest for a fourth straight state championship is anything but certain after Friday's preliminaries. Saline swimmers posted the best times in eight of 11 events. However, Brother Rice will have 15 opportunities for event titles Saturday, three more than Saline.
Brother Rice turned in the best times in the 200 free and 400 free relays. The Warriors quartet of Joe Krause, Ryan Grady, Bradford Jones and Patrick Nodland finished the 200 free relay in 1 minute, 25.19 seconds - nine hundredths of a second faster than Saline.
"Brother Rice swam out of their minds today," Saline coach Todd Brunty said. "They dropped some good time, but we can't be moping tonight. We did pretty good today, but we gotta hit it out of the park tomorrow."
Whitener is the two-time defending champion in the 100 and 200 free, as is Boland in the fly. Ehrman will be striving for a repeat title in the breast.
"We had a lot of good efforts today," Boland said. "A lot of us swim in the offseason for Club Wolverine and coach (Brunty) knows how to get the best out of us. Whenever we need to make a change, he lets us know.
"He pushes us in practice and gives us goals...he knows how to get us hyped up."
Boland said his experience as part of three previous championship teams has informed his approach this year.
"I'm just trying to be more relaxed this time," he said. "It's my last time swimming with these guys, and we're trying to make the most of it. It's a close team every year. These guys are like another family to me."
Saturday's finals will begin at noon.
Pioneer's Klein sets record, team in title hunt
ROCHESTER - Pioneer's Chris Klein broke the Division 2 record in the 100-yard breaststroke, qualifying first with a time of 55.47 during Friday's Division 2 boys' swimming preliminaries at Oakland University.
Klein, a senior and Michigan commit, broke the old record of 57.25 set by Holland's David Moore in 2010, by nearly two seconds. Klein's time was just 0.11 seconds slower than the all-class record of 55.36 held by Josh Ehrman of Saline.
Pioneer coach Dennis Hill said Klein's time broke the school's varsity record which had stood for nearly 40 years.
"He's going to be going to Michigan, and he's worked to be one of the best athletes in our program," Hill said. "He's got a big future ahead of him at Michigan."
Klein said Hill and the Pioneer coaching staff have been motivating him to push for the record time.
"I just trusted my coach, and I just knew I could do better than I had been doing," Klein said. "I've been feeling really good about it all year, and I have a very strong motivator pushing me to go faster."
Klein said it felt amazing to break not only a school record, but a state record as well.
"I'm so happy; it was the highlight of the day for me," Klein said. "I just hope I can go faster tomorrow and get another one."
Klein said he was confident he and the team could build on its performance going into the finals tomorrow.
"I think that if we swim well tomorrow, and we all have good races we have a very good shot at winning," Klein said.
Klein will be part of Pioneer's teams in the 200-yard medley relay and 400-yard freestyle relay. He also qualified first for his other individual race, the 200-yard IM, with a time of 1:50.51.
Along with Klein's two top finishes, the Pioneers will send a group of 10 swimmers to fill 18 spots in individual finals on Saturday. Two Pioneer relays finished second in preliminaries and another fifth.

Milan's Smith sets 50 freestyle record; Chelsea's Alday tops in 200 IM, 100 free

Milan's Ollie Smith set a Division 3 record in the 50-yard freestyle with a time of 20.92 seconds in Friday's boys swimming preliminaries at Eastern Michigan University.
"I've been working so hard at that all year," Smith said. "The coaches were really cheering me on and I just performed."
The previous record was held by St. Joseph's Ben Carter, who swam a 21.05 in last year's preliminaries.
"I told Ollie there were two schools of thought. He could have a safe start and not qualify, or he could put fear in the rest of the field," Milan coach Dan Heikka said. "He was confident and he knew he was fast. Hopefully, he can follow it up (Saturday) and that we'll have a lot more fast swimmers."
Smith, a junior, also finished fourth in both the 100 freestyle (47.58) and 200 freestyle relay with Tyler Kimbrell, Colin Schettenhelm, and David Brown (1:28.22).
Chelsea's David Alday finished first in the 200 individual medley (1:54.25) and the 100 freestyle (47.13).
"He has a great mind for swimming," Chelsea coach Dave Jolly said. "Tomorrow will be a new day and you'll see a totally different swimmer."
Alday, a junior, missed much of last season recovering from a broken back, and was not allowed to dive until last year's state meet.
"He trained extremely well, and I attribute that to the seniors that he trained with," Jolly said.
Alday was also third in the 400 freestyle relay with Nick Burris, Jacob Hartman, and Sam Almhiemid (3:15.19), and fifth in the 200 medley relay with Almhiemid, Burris, and Nick Deppner (1:38.50).
Finalists
Here is a list of local swimmers that earned a spot in Saturday's A Finals (top eight) or B Finals (9-16) races during preliminary-round competitions at the three state championship meets being held across the state. Follow the links for complete results.
200 medley relay
1. Saline (David Boland, Josh Ehrman, Adam Whitener, Michael Bundas), 1:30.26
16. Huron (Holden Tamblyn, Haoyong Tang, Adam Lewit, Will Brenner), 1:40.99

200 freestyle
1. Adam Whitener (Saline), 1:39.00
16. Andrew Henning (Huron), 1:45.38

200 individual medley
1. Josh Ehrman (Saline), 1:48.30
8. Stefan Koberl (Saline), 1:57.05

50 free
1. Michael Bundas (Saline), 21.21
14. Will Brenner (Huron), 22.00

100 butterfly
1. David Boland (Saline), 48.59
11. Stefan Koberl (Saline), 52.92

100 freestyle
1. Adam Whitener (Saline), 44.81
5. Michael Bundas (Saline), 46.94

500 freestyle
14. Andrew Henning (Huron), 4:45.91

200 freestyle relay
2. Saline (Josh Ehrman Michael Bundas, Lucas Allen, Adam Whitener), 1:25.28

100 backstroke
1. David Boland (Saline), 50.00

100 breaststroke
1. Josh Ehrman (Saline), 56.15
400 freestyle relay
5. Saline (David Boland, Lucas Allen, Matthew Sieffert, Stefan Koberl), 3:11.35

200 medley relay
2. Pioneer (Matthew Erickson, Chris Klein, Kai Williams, Thad Stalmack), 1:35.47
7. Dexter (Robbie Zofchak, Ryan Stanton, Andrew Pek, Paul Ruble), 1:38.65
10. Skyline (Ben Merte, Gavin Feeney, Matt Orringer, Daniel Schorin), 1:39.24

200 freestyle
2. Jonathan Zofchak (Dexter), 1:41.02
7. Davis Argersinger (Pioneer), 1:43.77
9. Dennis Dahlmann (Skyline), 1:43.85
11. Jacob Vander Meulen (Skyline), 1:44.03
12. Max Merriman (Dexter), 1:44.21

200 individual medley
1. Chris Klein (Pioneer), 1:50.51
4. Matt Orringer (Skyline), 1:55.04
12. Daniel Wu (Pioneer), 1:57.04
14. Robbie Zofchak (Dexter), 2:00.03
16. Peter Doyle (Pioneer), 2:00.95

50 freestyle
3. Brennan Maisch (Dexter), 21.51
9. Kai Williams (Pioneer), 21.79
11. Thad Stalmack (Pioneer), 21.90

100 butterfly
2. Kai Williams (Pioneer), 51.13
3. Max Cornblath (Pioneer), 51.37
14. Andrew Pek (Dexter), 53.30

100 freestyle
3. Brennan Maisch (Dexter), 46.82
6. Andrew Heise (Pioneer), 47.71
14. Daniel Wu (Pioneer), 48.07
16. Paul Ruble (Dexter), 48.45

500 freestyle
2. Matt Orringer (Skyline), 4:38.68
3. Max Merriman (Dexter), 4:40.66
4. Jacob Vander Meulen (Skyline), 4:40.69
5. Jonathan Zofchak (Dexter), 4:40.76
6. Dennis Dahlmann (Skyline), 4:41.51
7. Davis Argersinger (Pioneer), 4:43.66

200 freestyle relay
4. Dexter (Brennan Maisch, Paul Ruble, Max Merriman, Jonathan Zofchak), 1:26.28
5. Pioneer (Thad Stalmack, Jiming Shen, Daniel Wu, Davis Argersinger), 1:26.48

100 backstroke
9. Robbie Zofchak (Dexter), 54.04
10. Matthew Erickson (Pioneer) 54.64
11. Max Cornblath (Pioneer) 54.65
14. Andrew Heise (Pioneer), 55.04
15. Peter Doyle (Pioneer), 55.41
16. Andrew Pek (Dexter), 55.65

100 breaststroke
1. Chris Klein (Pioneer), 55.47
4. Jiaming Shen (Pioneer), 57.91
10. Thad Stalmack (Pioneer), 1:00.24
11. Gavin Feeney (Skyline), 1:00.76
400 freestyle relay
2. Pioneer (Kai Williams, Daniel Wu, Davis Argersinger, Chris Klein), 3:08.19
4. Dexter (Brennan Maisch, Max Merriman, Robbie Zofchak, Jonathan Zofchak), 3:08.8

200 medley relay
5. Chelsea (Sam Almhiemid, David Alday, Nick Burris, Nick Deppner), 1:38.50
11. Milan (Dallas Digeasare, Ollie Smith, Tyler Kimbrell, Chris Fenrich), 1:42.31

200 freestyle
8. David Brown (Milan), 1:47.03

200 individual medley
1. David Alday (Chelsea), 1:54.25

50 freestyle
1. Ollie Smith (Milan), 20.92
14. Nick Deppner (Chelsea), 22.37

100 butterfly
7. Nick Burris (Chelsea), 54.93

100 freestyle
1. David Alday (Chelsea), 47.13
4. Ollie Smith (Milan), 47.58
8. David Brown (Milan), 48.26
12. Sam Almhiemid (Chelsea), 49.09

500 freestyle
16. Ben Thoms (Chelsea), 5:00.80

200 freestyle relay
4. Milan (Tyler Kimbrell, Ollie Smith, Colin Schettenhelm, David Brown), 1:29.22
5. Chelsea (Nick Deppner, Jonny Mangner, Max Lonnemo, Nick Burris), 1:29.23

100 backstroke
8. Nick Deppner (Chelsea), 55.13
9. Sam Almhiemid (Chelsea), 55.22
12. Jacob Hartman (Chelsea), 56.05

100 breaststroke
3. Tyler Kimbrell (Milan), 58.85

400 freestyle relay
3. Chelsea (David Alday, Nick Burris, Jacob Hartman, Sam Almhiemid), 3:15.19
8. Milan (David Brown, Tyler Kimbrell, Ollie Smith, Colin Schettenhelm), 3:18.41