Posted on
Fri, Apr 26, 2013 : 9 a.m.
Saline softball stays unbeaten and more Thursday night action
By Kyle Austin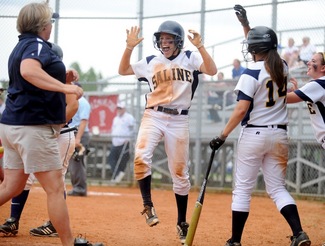 Softball
Saline 14, Temperance Bedford 0; Saline 9, Temperance Bedford 1
Story | Boxscore
Laura Vaccaro led the way at the plate with three hits and three RBIs as Saline swept the double header over host Temperance Bedford 14-0, 9-1.
Sam Bruly and Angel Schilke each had three hits on the day.
Girls Soccer
Huron 3, Lincoln 1
Story | Boxscore
Tied 1-1 at the half, Huron scored twice in the second to defeat visiting Ypsilanti Lincoln 3-1 on Thursday.
Lincoln's Haley Wagner scored the Railsplitters' only goal off an assist by Shelby Crow to tie up the game in the first half.
"It was evenly matched game going back and forth," Lincoln coach Bob Stowe said. "Huron controlled most of the match, but we had our opportunities."
For Huron coach Steve Shelton, the key to the win was persistence.
"We had a lot of shots and opportunities, but we couldn't put them in," he said. "We were able to get through that, just kept fighting and got a few in."
Skyline 8, Chelsea 0
Story | Boxscore
Skyline scored seven goals in the first half on the way to an 8-0 victory over Chelsea on Thursday.
Margo Apostoleris had three goals and two assists in the win, while teammate Cienna Rael-Whitsitt came up with two goals and an assist.
It has not been the easiest of seasons for Skyline because rain has wreaked havoc with practices and games. Still, it was Skyline's fourth win in five games.
Girls Tennis
Chelsea 7, Greenhills 1
Story | Boxscore
Fighting through "not ideal conditions," according to Chelsea coach Matt Pedlow, the Chelsea girls tennis team rallied to play "smart tennis," and defeat Ann Arbor Greenhills 7-1 on Thursday.
No. 4 singles Hannah Moore played her best tennis of the season, according to Pedlow, winning 7-5 (6-0), 6-4.
"She was quite aggressive, and stroked the ball well," Pedlow said, adding that the No. 2, No. 3 and No. 4 singles all "played well and figured out how to win points."
Chelsea swept the doubles matches with more strong play, and the No. 3 doubles team of Sam Sabara and Jordan Jacobs is 7-0 this season, while Genny Stubbs and Jaquelyn Barbour are 10-0.
Girls Lacrosse
Pioneer 17, Bloomfield Hills United 12
Story | Boxscore
Mercedes Reyes racked up nine goals and added four assists as visiting Ann Arbor Pioneer outscored Bloomfield Hills United 17-12 on Thursday night.
Sam Zwolan also had quite the evening, scoring four goals and assisting on five others. Pioneer (8-4) dashed to a 9-6 halftime lead and maintained its advantage despite a constant offensive push from United.
"After we got an early lead, it was pretty much an even battle," Pioneer coach Zachary Maghes said. "It was back and forth. We were fortunate to come out on top against a good team.
Girls Water Polo
Story | Boxscore
Kourtney Sattler scored a hat trick and assist, with her third goal being the game winner coming at 2:53 of the final quarter, to lead Dexter over Pioneer in girls high school water polo action Thursday.