Posted on
Tue, May 7, 2013 : 10:34 a.m.
Saline softball tops Dexter in battle of top SEC teams and more Monday results
By Kyle Austin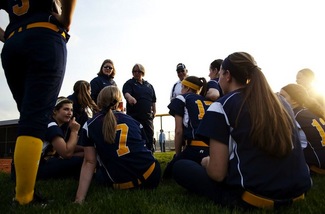 Daniel Brenner | AnnArbor.com file
Softball
Saline 5, Dexter 3; Saline 7, Dexter 0
Story | Boxscore
Junior Laura Vaccaro led Saline with six hits, including a double and two home runs in Game 2, and six RBIs, as the Hornets softball team swept host Dexter 5-3, 7-0 on Monday.
"Laura's on fire right now," Saline coach Alicia Seegert said. "She's coming on right now, she's one of our top hitters."
Chelsea Leathers, Sam Bruely and Katie Alexander each added two hits, including a two-run home run by Alexander.
Saline scored two runs in the top of the eighth inning to win Game 1, after Dexter tied it 3-3 in the bottom of the fifth.
Brooke Lupi and Savannah Krull each had two hits.
Baseball
FGR 5, Macomb Lutheran North 4; FGR 6, MLN 2
Story | Boxscore
Gabriel Richard scored three runs in the top of the seventh inning of Game 1 to take the lead and grab the win, en route to a sweep of host Macomb Lutheran North 5-4 and 6-2 on Monday in a non-conference doubleheader.
Joel Parker led Gabriel Richard with three hits, including a double, while Gail Thor, Jon Barroso and Carsten Dembeck contributed two hits apiece.
Pitchers Joe Kendzicky and Jacob McCulloch each earned a win, as McCulloch struck out five, and allowed three hits and four walks. Kendzicky struck out nine and hit a triple offensively.
Huron 10, Ypsilanti 0; Huron 16, Ypsilanti 9
Story | Boxscore
Huron's Domenic DiGiovine drove in two runs, had three hits, allowed no earned runs, and struck out seven in five innings to help the visiting River Rats baseball team sweep Ypsilanti 10-0 and 16-9 on Monday. Demetrius Sims and Nasheed Bass each had four hits and three RBIs.
Ypsilanti's Michael Blackburn had four hits, including a two-run home run in the bottom of the fifth.
Boys Golf
Huron 156, Temperance Bedford 171
Story | Boxscore
Huron's Danny Langa shot a 1-under-par 35 to lead the River Rats to a 156-171 win over Temperance Bedford on Monday at The Legacy Golf Course.
Reid McCallister shot a 39 to contribute to Huron's lowest total of the season. Will Hanselman and Guy Frydenlund rounded out Huron's top four with scores of 40 and 42, respectively.
Girls Tennis

Chelsea 7, Dexter 1
Story | Boxscore
In a Southeastern Conference White Division battle, Chelsea picked up wins in seven flights as the Bulldogs beat Dexter 7-1 win Monday.
"The girls played well," Chelsea coach Matt Pedlow said. "They are a big rival of ours and they have beaten us the last couple years. But tonight, the girls played great."
Amelia Sadler (Dexter) scored a 6-1, 6-1 win over Laurel Hall for Dexter's only win of the dual match.
Otherwise, Chelsea had seven wins, including a 6-1, 4-6, 6-1 win by Sarah Oberholtzer and Rachel Katz over Dexter's Shea Holman and Hannah Kimball.
Kyle Austin covers sports for AnnArbor.com.