Posted on
Fri, Jan 6, 2012 : 6:13 p.m.
Saline swim coach Todd Brunty receives national coach of the year award
By Pete Cunningham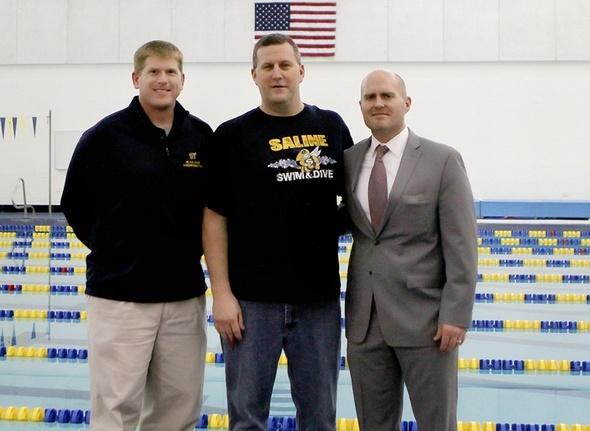 Photo courtesy of Kym Williams
Updated story: Saline mistakenly awards swim coach Todd Brunty national coach of the year
The Saline High School boys swimming and diving team hosted its first meet of the season on Thursday and -- to the surprise of no one -- won by nearly 100 points over visiting Tecumseh.
Such margins of victory have become commonplace for the swimming program under coach Todd Brunty. What happened poolside during the meet's intermission, however, was anything but. Brunty was presented with the National Interscholastic Swimming Coaches Association coach of the year award.
"I'm not sure there's an adjective that really describes what an accomplishment that is. One that comes to mind is flat out incredible," said Saline athletic director Rob White during a poolside presentation.
Brunty flashed his signature squinty eyed smile, normally reserved for when his swimmers receive accolades. For once his outward joy was for selfish reasons.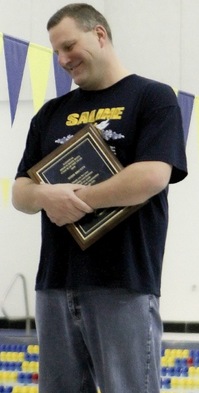 Photo courtesy of Kym Williams
"I'm happy that my work that I've put in and the time I've spent gets recognized by other people. It's not why you do it, but it's nice," Brunty said. "I've always driven myself to make sure (the swimmers) get the success, so it's nice to see that I get some recognition."
By being anything but selfish is how Brunty has gotten to this point.
"Just seeing him put so much time and effort into the team, you almost feel obligated to give back the same amount of time and energy he puts in," said Connor Corcoran, a captain on Saline's 2010 state championship team.
Corcoran was one of a handful of Brunty's former swimmers on hand to honor their coach. Adam Messner, a state champion for Brunty when he coached at Dexter High School who went on to be an NCAA champion and All-American at Stanford, had a prerecorded speech streamed in over the loudspeakers.
Messner recalled what it was like on Brunty's first day on the job in Dexter.
"It was obvious you were going to take us to the promise land," Messner said. Brunty coached Dexter to a Class B-C-D state championship in 1999. "With your brother as your assistant, you guys were basically the Harbaughs of Michigan high school swimming. It was very awesome swimming for you guys."
While his former pupils honored Brunty, the current crop stood poolside, honoring their coach with an atypical round of applause, and following it up with their typical form of respect: dominating in the pool.
The junior class has known nothing but success, with state championships each of the past two years and a Class 3 public school (enrollment 1,401-1,900) NISCA national championship last season. Brunty is also the coach of the girls team, which won state championships in 2009 and 2010 and was runner-up this season.
Brunty and his team have the lofty, yet realistic, goal of not just winning a third consecutive MHSAA Division 1 state championship, but to score more points than any state championship team in the country.
"It looks like we can be in the mix," Brunty said, again flashing that squinty grin.
It's in setting such goals that the team continues to improve, even on a nights when they're going to win by 100 points, which is often.
"He always tells us, race as hard as we can no matter who we're against. ... The way he gets us ready for meets and the way he trains us, it's all focused on meets at the end of the season," said junior David Boland, who already has six state championship event titles to his name. "He's a great coach and I give credit for what I've done."
White pointed out that in order to have the success Brunty and Hornets have enjoyed, the crop of athletes has to be strong, but noted that without Brunty's coaching, those abilities would go unrealized.
"It's so incredible to watch what he's able to do with our student athletes to get the most out of them," White said. "He does have those horses, but he pushes them and challenges them and pushes them beyond what they even believe they can do."
Pete Cunningham covers sports for AnnArbor.com. Contact him at petercunningham@annarbor.com or by phone at 734-623-2561. Follow him on Twitter @petcunningham