Posted on
Fri, Nov 18, 2011 : 10:18 p.m.
Saline swimmers in the hunt after Day 1 of state finals and more results
By Angela Cesere
Day 2 of the MHSAA Division 1 girls state championships will pretty much be a two-team race between two-time defending champions Saline High School and four-time defending Division 2 state champion Farmington Hills Mercy.
After the first day of the championship meet at Eastern Michigan University, both have enough scorers in the final heats to all but guarantee as much.
"Honestly, I think it's going to come down to the very last race," said Saline coach Todd Brunty.
Saline will have 15 entries in Saturday's final heats and three in the consolation finals. Mercy has 12 finals entries and eight in consolation heats. Both teams have entries in all three relay events.
"It's going to be tight, it's going to be fast. It'll be a good one," Brunty said.
Last year, both teams pretty much had their championships in the bag after Day 1 of their respective finals. With enough swimmers scoring and/or in final heats, Saturday was almost a formality.
But with Mercy moving up to Division 1 this year -- along with three other top 10 D2 teams in Hudsonville, Skyline and Temperance Bedford -- Brunty knew his team would have to be at its best both days to win their thrid straight state title.
He was right.
"We did what we needed to do today, we put ourselves in a position to win that meet (Saturday)," Brunty said. "We have to go in with the mentality that every swim is going to matter."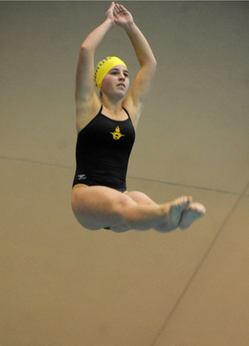 Huron will have four individual and two relay entries in final heats on Saturday. The team will get a major boost from its divers, which put all three girls --
Madeline Woods
,
Elena Ghormely
and
Molly Gelb
-- into Saturday's final.
It was a bittersweet performance, according to Huron diving coach Brad Huttenga. On one hand, Woods making it to the final day of competition far surpassed her goal of simply qualifying for states. And if Gelb can hold at her eighth-place position, she'll reach her goal of achieving all-state.
It was, however, a disappointing day for Ghormely, who is in 13th position after missing on few dives.
Ghormely was regional champ and Heeringa thought she had a realistic shot at winning the whole thing.
"I thought she'd be in the hunt, but the good news is, she still has some good dives left and could do some moving to get to the top eight," Heeringa said. "We gotta perform and do our part to get the team on the podium."
Skyline has six finals entries, including one relay (200 yard medley) and three of the top four seeds in the 100 breaststroke. The Eagles will score in the other relays and in two other individual consolations.
"Our only disappointment is we had two ninths in relays," said Skyline coach Maureen Isaac. "But our goal was top 10 and we're obviously there and we might even be able to sneak into top six."
Pioneer diver Christina Lu -- currently in fifth place -- is the only possible all-stater for the Pioneers. Karen Zhang (100 breast) is the only other Pioneer who will score on Saturday. Both are freshman. (Division 1 prelims)
DIVISION 2
at Holland Aquatics Center
Milan will have three individuals and two relays compete in championship heats in Saturday's Division 2 state finals at the Holland Aquatics Center. The Big Reds also have two consolation entries (one relay, one individual).
Milan senior Heather Kiger, two-time defending 100 butterfly champion in Division 3, will be the No. 2 seed in Saturday's final. She finished 2.11 seconds behind top-seeded freshman Taylor Garcia of Holland High School in the prelims.
Dexter will not have any swimmers compete for all-state medals. The Dreadnaughts' Bridget Morgan will score in the 200 and 500 freestyle and Dexter has entries in the consolation heats in the 200 free relay and the 400 free relay. (Division 2 prelims)
Information on divers Haley Feeman (Milan), Paige Stefan (Milan) and Katie Callaghan (Dexter) not available.
DIVISION 3
at Oakland University
The Chelsea High School 400 freestyle relay team of Talia Dyerly, River Jensen, Alex Duncan and Jillian Dixon will be the Bulldogs' only entry in Saturday's second round of the Division 3 state championships at Oakland University. The team will compete in the consolation heat. (Division 3 prelims)