Saline edges Birmingham Brother Rice for fourth consecutive swimming state title
Posted on Sat, Mar 9, 2013 : 5:38 p.m.
Jon M. Brouwer | Mlive Media Group
HOLLAND -- There hasn't been a lot of adversity for this Saline High School boys swimming dynasty, with three straight Division 1 state titles by 70 points or more under their belt coming into this weekend's state meet.
But Friday night, they had their come-to-Jesus moment.
After a disappointing preliminary session Friday, the Hornets were in position to finish the 2013 meet as runners-up to Birmingham Brother Rice by seven points, if all seed times held.
But with dominating swims by its senior class and improved performances from several underclassmen, the Hornets won their fourth state title, 313-309 over Brother Rice, in a meet that came down to the final race Saturday afternoon at the Holland Aquatic Center.
More Coverage: Complete Results
"I looked at the meet at the end of last season and I knew it was going to come down to this," Saline coach Todd Brunty said. "I kept trying to tell them all season that this is going to be this kind of meet. 'Don't worry about it coach, we've got it, that's not going to happen.'
"Last night I had to really bite my tongue and not say I told you so. But they believe in themselves, they do have that in them. That's why they're champs."
After nearly losing their points lead midway through the meet, the Hornets needed to finish fifth or better in the final event, the 400 freestyle relay, to win the team title. It finished fourth, and the Hornets were once again jumping in the pool to celebrate.
In winning its fourth straight state title, the Hornets accomplished something that's been done only twice in the last 35 years at the state's top level.
And having the last one be the closest made it even sweeter.
"It was a lot of pressure, but I actually enjoyed it better than winning by a lot," senior Josh Ehrman said. "There was some swims where we knew we had to go fast and we had to win, and I think when you're put under that kind of pressure, you're going to perform."
The Hornets were once again led by the senior trio of Ehrman, David Boland and Adam Whitener, who had won 11 individual state titles in three years going into the weekend and added six more to the haul Saturday.
Ehrman set two all-class state records in the 200 individual medley and 100 breastroke to take swimmer of the meet honors. Boland set two Division 1 state records in the 100 butterfly and 100 backstroke, while Whitener took home titles in the 200 freestyle and 100 freestyle.
The three also contributed to Saline's two relay state titles: the 200 medley relay, which beat the national public school record record it set Friday, and the 200 freestyle relay, which set an all-class state record.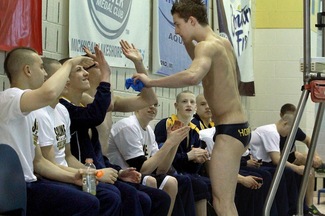 Jon M. Brouwer | Mlive Media Group
Fellow senior Michael Bundas added another state title to the haul in the 50 freestyle, and senior diver Sam Blair finished as runner-up.
With four team state titles, 18 individual state titles, four state records, plus contributions to seven relay titles and two relay state records, the Saline seniors class leave high school swimming with a legacy that may never be matched by a single class.
"I don't think there's going to be anything ever quite like it," Ehrman said.
The Hornets won nine of 11 races Saturday, more than it did in any of its previous three state title wins. But this year's team didn't have the depth of previous ones, opening the door for Brother Rice.
After an early lead, the Hornets were nearly caught in the total points in 200 freestyle relay. But after the relay team fell behind to Brother Rice in the third leg, Whitener closed in a 19.98 50-yard freestyle to get the win in a race that Brunty said "turned the tide of the meet."
"I saw we were a few feet behind, and I just wanted everything I could to finish strong and take it home," Whitener said.
While Saline's seniors won their share of state titles, the difference between second and first in the overall points came down to the team's other athletes moving up from their seeds. That included all three Saline divers moving up a spot from their positions heading into Saturday, earning diving coach Gretchen Plamondon coach of the year honors.
And after shuffling the lineup from Friday, a relay team that included a freshman and sophomore got the final place the Hornets needed to seal the win.
"It even made it a little more special that we were able to go through some adversity yesterday and come through, and a couple of kids redeemed themselves. It was a real special day for us," Brunty said.
And if this Saline dynasty is going to continue, Brunty hopes it started with two of Saline's younger swimmers doing their part in the championship-clinching relay.
"(The seniors) have paved the way and opened the door for the other guys," Brunty said. "Yesterday they didn't really follow, today they came back and followed the leadership. So that's what's going to be huge."