Posted on
Tue, May 14, 2013 : 10:51 p.m.
Saline tops Greenhills in girls tennis, both teams look forward to regionals
By Kyle Austin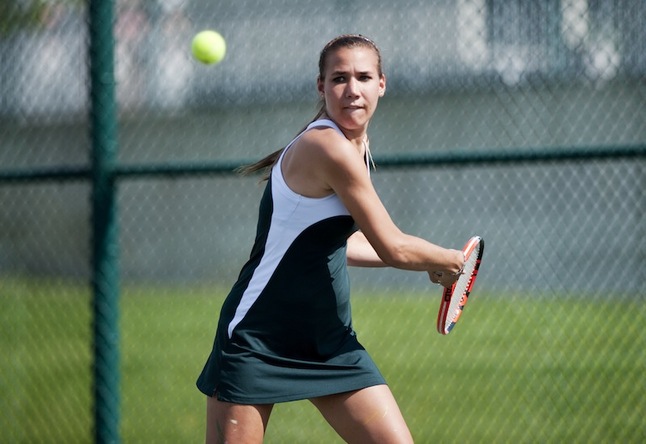 Daniel Brenner | AnnArbor.com
The atmosphere was relaxed Tuesday afternoon at the Saline High School tennis courts. One last non-league dual before the race to the state finals begins.
Saline topped Greenhills, 7-1 Tuesday afternoon as both teams tuned up for regional competitions later this week.
More Coverage: Boxscore
The Hornets won three singles matches, including a 6-0, 6-0 win by Mary Hanna at No. 1 that moved the senior to 23-0 on the season. Anjali Purohit notched the lone Gryphons win on the day at No. 4 singles, taking a three-set win over Saline's Sonia Patel.
Saline swept the doubles portion, dropping only eight games.
Both Saline and Greenhills are ranked No. 10 in their respective divisions in the most recent coaches association rankings.
Greenhills, the AnnArbor.com team of the week, now moves on to host its regional competition Thursday. The Gryphons finished in third at last year's Division 4 state finals.
Saline will play its Division 1 regional at Canton Friday, alongside Huron, Pioneer and Skyline.
"It's a very tough regional and now Skyline's up and running full bore, it's four top ten teams," Saline coach Andy DeBell said. "Four top ten teams in the same regional, that's tough."
Hanna, a No. 1 singles state semifinalist last year will be among the favorites to take home this year's state title. And past that, the Hornets are looking for a few flights to join her in the regional finals to help the Hornets advance.
"It would be good to get, besides Mary into the final, a couple other flights," DeBell said. "If we get three flights into the final we're sure to make it to the state tournament. But we've got to play to get there."
The Hornets' best shot to do that is at No. 1 and No. 2 doubles. Both teams received three seeds in the tournament draw Monday.
"If they win their first matches, they'll play Pioneer in the semis," DeBell said. "We played them close all year."
The Gryphons will host a regional Thursday that includes three of the top four Division 4 teams in the state in the most recent coaches rankings: No. 2 Father Gabriel Richard, No. 3 Grosse Ile and No. 4 Monroe St. Mary Catholic Central.
"I think realistically one tries to look for flashes, sparks that you can turn into a fire," Greenhills coach Mark Randolph said. "We're looking for kids to execute some of the stuff we've been working on and see if we can grab some momentum."
The Gryphons' top seed Thursday will be the No. 4 doubles team of Makaila DeSano-Smith and Anicka Gajar, who received the No. 2 regional seed after beating the teams from Gabriel Richard and SMCC during the regular season.
"They stand a pretty good chance," Randolph said. "They've had a good season."
Kyle Austin covers sports for AnnArbor.com. He can be reached at kyleaustin@annarbor.com or 734-623-2535. Follow him on Twitter @KAustin_AA.