Friday night roundup:

Saline trounces Adrian 58-20, Whitmore Lake shocks Morenci more football results

Posted on Fri, Sep 7, 2012 : 11:26 p.m.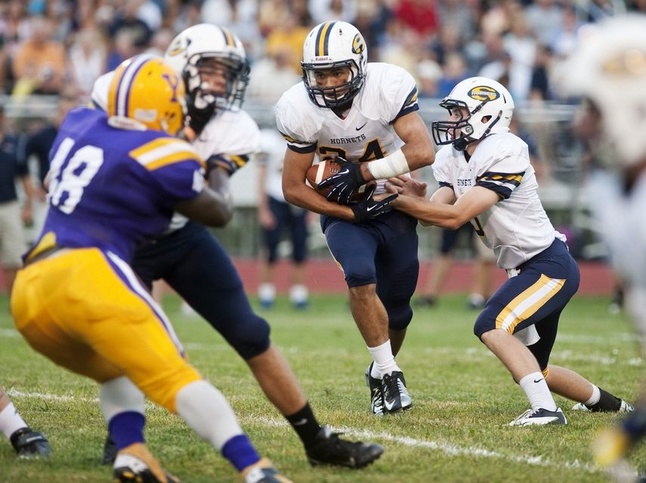 Daniel Brenner | AnnArbor.com
AnnArbor.com Washtenaw County Scoreboard:
Saline 58 , Adrian 20
Story | Boxscore
Saline (3-0, 1-0) entered halftime with a 24-20 lead over visiting Adrian (0-3, 0-1), but the second half was all Saline as they outscored Adrian 34-0 to remain unbeaten on the year.
Saline running back Kevin Gross scored four touchdowns on the night, with three of them coming in the third quarter. Gross scored on runs of 25, 10, two, and four yards.
Temperance Bedford 53, Chelsea 20
Story | Boxscore
Temperance Bedford's Brad Boss accounted for five touchdowns as the Kicking Mules improve to 2-1 (1-0).
Boss was 4-of-9 passing for 71 yards and added one touchdown; though it was on the ground that Boss truly found his stride. Boss rushed for 190 yards on eight carries and four touchdowns. Teammates Weston Swick, Alec Hullibarger and Austin Reidmeier had one rushing touchdown, each.
Chelsea is 0-3 (0-1) on the year.
Father Gabriel Richard 53, Tawas Area 0
Story | Boxscore
Ann Arbor Gabriel Richard's Ashton Hundley and Hayden Staub rushed for a combine five touchdowns as the Fighting Irish (3-0) handed Tawas their third defeat this season. After making it to the Division 6 playoff last year, Tawas finds themselves in a rebuilding year.
"They are a pretty young team," Ann Arbor Gabriel Richard coach Brian Lemons said. "They graduated a lot of players last year. We have a lot of returning players which played a big factor."
Manchester 28, Vandercook Lake 0
Story | Boxscore
Manchester's defense forced four turnovers to help keep Vandercook Lake off the scoreboard. Brian Robert had six tackles and Jon Westcott had four and a half tackles and also blocked a Vandercook Lake punt in the first quarter to set up Manchester's first touchdown.
Manchester improves to 2-1 on the season.
Tecumseh 41, Huron 14
Story | Boxscore
Josh Jackson led Ann Arbor Huron (0-3, 0-1) in passing with 14 completions, 132 yards, and two interceptions. Teammate Somto Igwegbe led in rushing with 14 attempts and 105 yards. Dan Hugan had 10 receptions for 99 yards.
Tecumseh is now 3-0 (1-0) on the year.
Monroe 47, Ypsilanti 6
Story | Boxscore
With 10 minutes left in the first quarter, Monroe's Nate Daniels ran 12 yards for the first touchdown of the game. Two minutes later, teammate Gaecano Paolino ran 22 yards for a second touchdown. Monroe's Tom Wes scored an additional touchdown in the first quarter after a one-yard run.
Ypsilanti falls to 0-3 (0-1) in 2012.
Milan 35, New Boston Huron 8
Story | Boxscore
Milan's Arthur Dukes rushed for 132 yards on 13 attempts and teammate Robert Kanitz had 94 rushing yards on 16 attempts with two touchdowns. Kanitz also was 2-of-2 passing for 61 yards and one touchdown.
Milan (3-0) has given up 30 points in its first three games.
"We thought our defense was in for a challenge," Milan coach Jesse Hoskins said. "(New Boston Huron) is a solid club that can run the ball. but our defense stepped up to the challenge."
Whitmore Lake 16, Morenci 0
Story | Boxscore
Jacob Zagor led Whitmore Lake (1-2) with a 70-yard touchdown on a pass from Dylan St. Charles. Zagor also scored a touchdown on a 75-yard punt return and had an interception.
"Zagor does a lot of good things for us," Whitmore Lake coach Barry Pierson said, "He's young and learning, but he's got some talent and makes big plays. Great blocking on the kickoff return was key."
Willow Run 29, Detroit Allen Academy 16
Story | Boxscore
Marquis Smith led Ypsilanti Willow Run (2-1) in rushing yards with a total of 151 on six attempts, including a 67-yard touchdown run in the fourth quarter. Smith also led in passing with 12 completions and a total of 338 yards.
Annarbor.com coverage:
Ypsilanti Lincoln 51, Ann Arbor Skyline 29
Story | Boxscore | Gallery