Posted on
Fri, Nov 9, 2012 : 9:32 p.m.
Saline comeback comes up short in 21-14 loss to Cass Tech
By Kyle Austin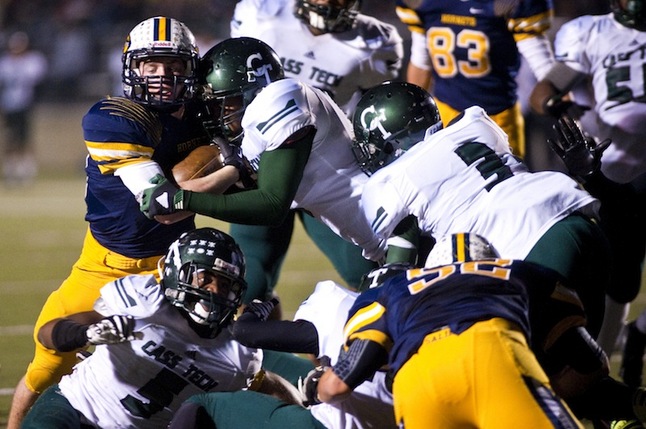 Joseph Tobianski | AnnArbor.com
Saline got to within a field goal early in the fourth quarter, but couldn't hold off a powerful Cass Tech rushing attack as the Hornets fell, 21-14 Friday night in a regional title game.
The loss ends a season in which Saline won 10 games for the first time in school history, and won its second district title. The Hornets finish the season 10-2.
"Coming in at the start of the year, I didn't expect us to be in this position and finish 10-2, be district champs and in the regional final, host three playoff games and take Cass Tech to the wire with a chance to win," Saline coach Joe Palka said. "I think far and away we overachieved and I couldn't be prouder of our players."
Related Content: Boxscore | Photo Gallery | Saline defense strong
Saline got to within a field goal early in the fourth quarter and, after Cass Tech against extended it leads, got to within a touchdown with 58 seconds left in regulation, thanks to a 27-yard field goal from Gage Hammond.
Saline's AJ Korzuck recovered the onside kick on the Cass Tech 46, but Hornets quarterback Tyler Palka threw an interception on the first play to seal the game for Cass Tech.
"We said they're going to be coming in our face, and we just wanted to get it up and out," Tyler Palka said. "I got it up and out, and that kid just made a great play on the ball."
The interception marked the end for a Saline team that felt and played like underdogs all night. Facing a Cass Tech team with three senior Division 1 prospects, including two on the offensive line, the Hornets were outgained 335-191.
But the Hornets defense forced three turnovers and stopped two Technicians drive inside their own 30 yard line.
"We knew they were more athletic than we were," Joe Palka said. "What we had to do was just hang around, continue to tackle."
The Technicians scored on their first drive of the second half, going 80 yards in nine plays, capped off by a 17-yard run by Mike Weber to go up by two scores.
With Cass Tech driving and looking to go up by three scores on its next drive, Saline's Brandon Gordon recorded an interception to give the Hornets the ball at their own 44 to start the fourth quarter.
Five plays later, Palka scampered 36 yards up the middle for his team's first touchdown of the night. The Hornets went for two, and scored on a halfback pass from Kevin Gross to Palka.
Palka led the Hornets with 76 yards passing and 85 yards rushing.
His touchdown cut the deficit to three. Cass Tech advanced to the Saline 23-yard-line on the next drive before turning the ball over on downs.
Saline took over with four minutes left to play, but fumbled the snap on the second play of the drive and gave the ball back to Cass Tech. The Technicians scored three plays later to go up by 10.
On its final drive, Saline drove down and notched the field goal, but couldn't get the final touchdown against the defending state champions.
"I couldn't be prouder of our guys, just continuing to battle all game long until under 50 seconds left to go with the chance to win the game," Palka said. "I couldn't ask for anything more."
Despite being outgained by more than 100 yards in the first half, Saline went into halftime down by just four points.
Cass Tech went 98 yards on its first drive, including a 45-yard run and a 19-yard score for the touchdown early in the first.
The Saline defense forced a three-and-out and a fumble the next two Cass Tech drives.
The Hornets drove down to the two-yard-line midway through the second quarter, but had to settle for a 20-yard Gage Hammond field goal. The Hornets managed 68 yards of offense in the first half.
Cass Tech threatened near the end of the first half, but a Caleb Ashby sack on third down forced Technicians quarterback Jayru Campbell to throw a hail mary that fell incomplete.
Kyle Austin covers sports for AnnArbor.com. He can be reached at kyleaustin@annarbor.com or 734-623-2535. Follow him on Twitter @KAustin_AA.