Posted on
Fri, May 31, 2013 : 5:45 a.m.
Saline's Mary Hanna looks for elusive singles state title this weekend
By Kyle Austin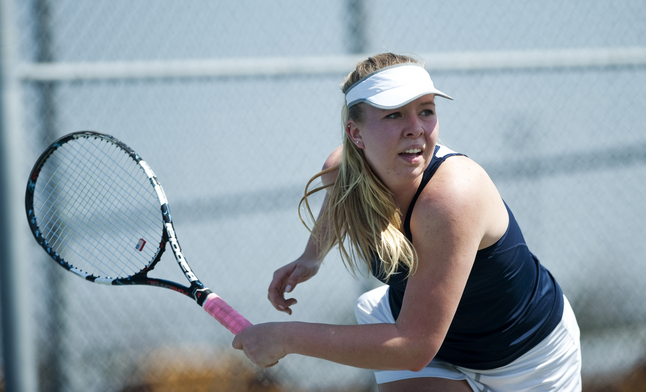 Daniel Brenner | AnnArbor.com file photo
There hasn't been much adversity this season for Saline's Mary Hanna this year, as she's cruised to an undefeated season and top seed in the No. 1 singles flight of this weekend's Division 1 state tournament.
But if things do go wrong Saturday, Hanna is more ready to handle it this year than she has been in previous ones.
"I was a really emotional player a couple of years ago, and it effected my ability to play," Hanna said. "So working on my emotional side of the game has really helped me a lot and has let me win more of my matches."
Hanna enters this weekend's state tournament at the Midland Community Tennis Center looking for her first high school state title. She has fallen in the semifinal round two of the past three years, last year as the top seed in No. 1 singles and as the three-seed in No. 2 singles as a freshman.
Compared to her first state finals appearance four years ago, Hanna's demeanor this weekend figures to be much improved.
"It's just a sea change," Saline coach Andy BeDell said. "And then going up from when she was a little kid playing until now, something clicks finally. In this sport you let your emotions get the better of you, you're done."
The Nebraska-bound senior is the top No. 1 singles seed for the second straight year, after dropping only one set all season.
That set came at the Huron Invite in late April, when Hanna topped Lexi Baylis of Clarkston. Baylis had never lost a high school tennis match and is a two-time defending state champion, though this is her first year at No. 1 singles. Hanna had played her close in several previous matches, but never beaten her before. Baylis is the No. 2 seed in the tournament.
"That's a huge win for her, confidence-wise too," BeDell said. "Mary's hitting the ball well."
And for Hanna, hitting the ball usually means hitting it hard. DeBell said she is likely the hardest hitter of any player in the state, and her speed is something most high school players can't handle.
This weekend, she'll face players that know how to counter that style. But when that happens, Hanna knows she will be able to handle it.
"I think I have a good chance," Hanna said.
Hanna will be in Midland along with two area teams: Pioneer and Huron. The River Rats are in Midland as back-to-back regional champions, while Pioneer qualified as regional runner-up.
No. 4 singles player Catherine Chou is Huron's top seed, at third in her flight. Rosa Wu is the five seed a No. 3 singles and is the six seed at Lucy Jiang No. 2 singles. Hanna Ljungman and Laura Hanselman, the No. 2 doubles team, is a five seed.
Pioneer's No. 1 doubles team of Sarah Court and Anna Borowicz earned the No. 4 seed and will be going for their second straight state title. The No. 3 doubles team of Evie VanDewege and Alyssa Roopas earned a No. 2 seed and the No. 4 doubles team of Emma St. Pierre and Sonal Bahl is the No. 4 seed.
MHSAA Tennis State Finals
Division 1
At Midland Community Tennis Center

When: Friday-Saturday.
Who: Huron, Pioneer, Mary Hanna (Saline).
Division 3
At Holland High School
When: Friday-Saturday.
Who: Chelsea.
Division 4
At Kalamazoo College

When: Friday-Saturday.
Who: Father Gabriel Richard.
Kyle Austin covers sports for AnnArbor.com. He can be reached at kyleaustin@annarbor.com or 734-623-2535. Follow him on Twitter @KAustin_AA.