Posted on
Sat, Aug 31, 2013 : 1:04 a.m.
Scouting Lincoln vs. Belleville about more than next week's matchup for Huron coach
By Pete Cunningham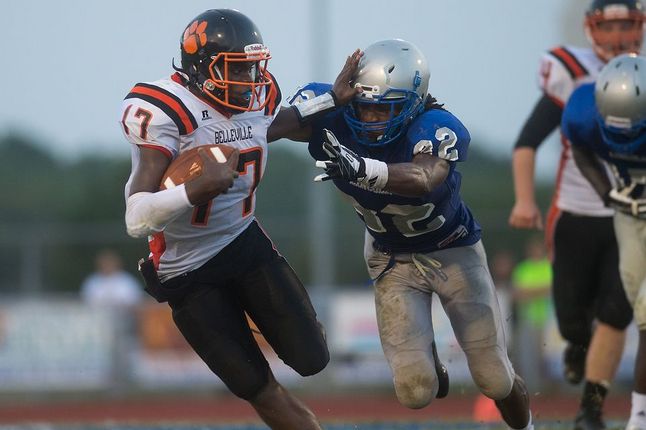 Courtney Sacco | AnnArbor.com
Ann Arbor Huron High School offensive coordinator
Luke Edwards III
attended
Lincoln's 30-9 win over Belleville
on Friday, just like the rest of the Huron coaching staff, as the River Rats face the Railsplitters next week. Huron opened the season on Thursday night, allowing the coaching staff the rare opportunity to see their upcoming opponent in person a week before the game.
Edwards wasn't just there to fulfill his duties as a coach though. He was there to fulfill his duties as a father. Edwards' son, Luke Edwards IV is the starting quarterback for Belleville.
Edwards III was thrilled at the prospect of seeing his son play.
"It's gonna be awesome," Edwards III said after Huron's Thursday game. "I'm bubbling over with excitement that I'll get to cheer him on and watch him, just as a dad."
Game of the Week coverage: Game story | Boxscore | Photo Gallery | Football roundup
Despite spending the entire first quarter in Lincoln's half of the field, it was a rough night for Edwards IV and the Tigers. The junior quarterback had some highlight reel moments while eluding pressure, rushing 12 times for 60 yards. He also had spectacular 28-yard completion across the middle early in the first half.
But the night for the most part belonged to Lincoln, and Edwards was disrupted in the pocket far more often than he was able to set up comfortably. He finished 3-of-17 passing for 51 yards and an interception.
Despite the struggles, Edwards IV was excited that his father was there to see the game.
"It really feels good to have a father that coaches be here able to see your game," said Edwards IV, who was just as happy to be playing at all after sitting out last year after transferring from Ypsilanti. "Sitting out watching the team and not being able to play is tough."
After sitting out the year, Edwards IV won a three-way quarterback battle to get the starting nod. Having gone to high school at nearby Ypsilanti High School prior to his time at Belleville, Edwards IV was excited to play against some familiar faces as well.
"When we get out on the field it gets competitive, but off the field there's some players I'm still cool with, Tyler Mabry, Lazon (Hicks), K.J. (Osborn), E.J. (Shaah)," Edwards IV said.
Edwards III was on Belleville's coaching staff last season, so he thought he'd be seeing his son play for the entirety of his high school career. That changed when he joined Craig Jobe's staff at Huron, but he relishes the opportunities he is able to see his son play in person.
Edwards III will be at his son's game again in Week 3 when Huron has another Thursday game. Other than that, the two will be relegated to online game film on late Friday nights.
"Thank god for Hudl," said Edwards IV.
Pete Cunningham covers sports for AnnAbor.com. He can be reached at petercunningham@annarbor.com. Follow him on Twitter @petcunningham.