Skyline and Lincoln fans combine forces to take over 'Game of the Week' voting; Saline makes a run
Posted on Tue, Sep 4, 2012 : 7:21 p.m.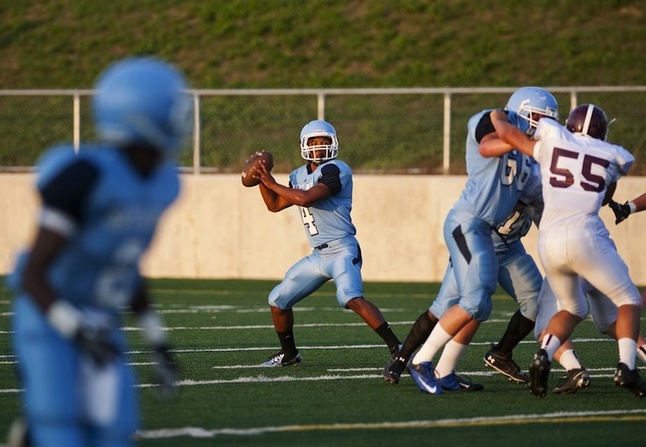 Dan Brenner | AnnArbor.com

Ladies and gentlemen, we have ourselves a record, and we have ourselves a high school football "Game of the Week."

Maybe it's because school started on Tuesday. Maybe it's because Southeastern Conference play officially begins on Friday. Maybe it's just because three weeks into the high school football season, people are finally rallying behind their respective teams.

Whatever the reason, more readers voted in the Week 3 poll than either of the previous two with 1,512 votes cast.

That's 462 more votes than last week's poll, and a record 25 votes from Canada. Give yourselves a pat on the back. Canadians, treat yourselves to a coffee and a donut. You deserve it.

Now, the results you've all been waiting for (and that the headline already gave away): Friday's Skyline vs. Lincoln game at Skyline High School is the Week 3 AnnArbor.com Game of the Week.

It was really an unfair matchup from the very beginning because, over the past year, Lincoln and Skyline fans have easily been our most active readership when it comes to high school sports coverage.

Having both fan bases rallying behind a common cause was like fishing with dynamite.

A total of 956 votes (63.2 percent) were cast for the game to be the Game of the Week.

Fans of the 2-0 Saline High School football team deserve some credit here as well. In the wee hours of the morning on Labor Day, I posted an update on the poll results to see if anyone could close the sizeable lead the Eagles and Railsplitters fans had built. Votes for the Saline vs. Adrian game skyrocketed from 136 to 376. That's a 176 percent increase in 36 hours, most of which was on a holiday that happened to also be the unofficial final day of summer.

I'm impressed.

Rounding out the voting was Pioneer at Dexter (86 votes, 5.7 percent), Chelsea at Bedford (78 votes, 5.2 percent) and Detroit Allen Academy at Willow Run (16 votes, 1.1 percent).

The Skyline vs. Lincoln matchup will include a pair of first-year starting quarterbacks -- one a senior, one a sophomore -- both of whom had to win their spots this year and appear to be benefitting from the respective competitions.

Skyline is led by sophomore Askaree Crawford, who has thrown for 476 yards (second in Washtenaw County) and six touchdowns versus just two interceptions in his two weeks at the helm after winning the QB-battle during summer practice. The big question is, will he have a chance to throw the ball with Bryton Boyle and the Lincoln defense coming after him?

Senior Javin Kilgo is under center for Lincoln and has an embarrassment of riches to work with at the skill positions. He has completed passes to six different receivers in each game - nine separate players total -- while leading Lincoln to a 2-0 start.

Lincoln coach Chris Westfall said at the end of last season that his team was "in trouble" if the former third-stringer Kilgo had to play, but Kilgo worked like a man determined never to sit on the bench again during the offseason to win his spot.

The quarterbacks alone should make this an interesting Game of the Week matchup.

Game of the Week coverage:

AnnArbor.com will give the Skyline vs. Lincoln game on Friday night its Super Bowl treatment, which will include two reporters covering the game, a live chat that you can follow from your iPhone or Android device, and a photo gallery as well.

Be sure to check back on Thursday for a full preview of the Game of the Week and for the opportunity to pick a winner for that and every other game involving Washtenaw County teams in the AnnArbor.com "Beat Pete" contest.