Posted on
Wed, May 8, 2013 : 9:20 a.m.
Skyline soccer allows first goal in eight games vs. Saline and more Tuesday results
By Kyle Austin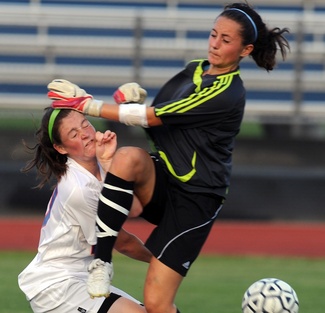 AnnArbor.com file photo
Girls Soccer
Skyline 1, Saline 1
Story | Boxscore
Skyline's Cienna Rael-Whitsitt scored a goal assisted by Shelby Wyatt in the second half, and Tori Norris made four saves in the 1-1 tie. Saline's goal was the first scored on Skyline since a 1-0 loss to top-ranked Plymouth in the season opener
"Cienna took a good shot that bounced off the defender, and then went up high, just under the crossbar," Skyline coach Chris Morgan said. "It was a good build up, we just needed to finish another one."
After giving up one goal in the first half, Skyline shutout Saline in the second.
"I was proud of their second half performance," Morgan said. "We played to our potential. This is a small victory, but we will take it and move on."
Pioneer 6, Monroe 0
Story | Boxscore
Jenny Fichera's hat trick led the Ann Arbor Pioneer girls soccer team in its third shutout of the season during the 6-0 win over host Monroe on Tuesday.
Audrey Park, Sarah Starman, and Mackenzie Sapp scored one goal each for Pioneer, while Lena Katterman added two assists and Fichera added one.
"We had a hard time scoring goals earlier in the season, so we've been practicing our ball movement," Pioneer coach Chris Coleman said. "Today, we saw things come together in terms of moving the ball forward and players working together.
Boys Lacrosse
Holt 6, Pioneer 5
Story | Boxscore
The Holt boys lacrosse team scored two unanswered goals in the fourth quarter to defeat host Pioneer 6-5 on Tuesday. Pioneer opened the game with a 3-1 first quarter.
Pioneer's Dylan Graham led the team with two goals, and Erik Barroso, Louis Marr, and Zach Weber each scored once.
"We had a couple of lapses on defense in the fourth period and Holt took advantage of them with a pair of goals," Pioneer coach Smith Atwood said. "We had 10 penalties and they had zero; three of Holt's six goals were on the man advantage, so we did get some stops."
Madison Heights Bishop Foley 10, Father Gabriel Richard 9
Story | Boxscore
Gabriel Richard led 9-7 after the third quarter, but was shutout in the fourth quarter 3-0 as Bishop Foley was able to score the come from behind win.
Gabriel Richard's Tommy Jetton and Matt Johnson both scored three goals, Fidel Galano scored one goal and had an assist, and Ryan Preston made 17 saves.
Softball
Pioneer 15, Skyline 5; Pioneer 8, Skyline 4
Story | Boxscore
Mackenzie Cole, Stina Perkins, Eileen Belden and Mikela Dean all had two hits on the day for Skyline.
Pioneer improved to 10-8 overall and 6-1 in the Southeastern Conference (Red Division) after the sweep.