Skyline athletic boosters looking to start traditional Friday night tailgate
Posted on Fri, Sep 7, 2012 : 9:59 p.m.
After moving to Ann Arbor by way of Atlanta, Skyline High School athletic booster Sue Maulbetsch felt something was missing from Friday night football games.
"Skyline is a new school and we're trying to get some new traditions started here," Maulbetsch said. "We're from the south and 'Friday Night Lights' are huge, so we're bringing it here and trying to see if we can get it going here.
"I figure if we can do it at the Big House, we can do it here."
With the Eagles hosting Ypsilanti Lincoln for the their first Friday night home game of the year -- Lincoln won 51-29 -- Maulbetsch and the boosters kicked off their new pre-game tailgate in style.
Set underneath a large tent were various Skyline athletics teams trying to raise money for their sports, local vendors selling food and activities like face-painting to get fans pumped up before the game.
They also gave away free spirit poms to the first 500 fans that arrived.
"We have a lot of fundraising events at this school that are really high-priced," Maulbetsch said. "We decided that we needed to do something that really encompasses the whole community."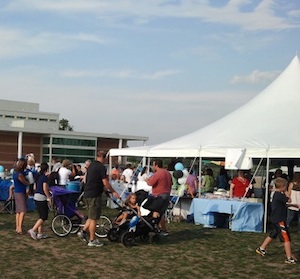 For those that arrived early, the tailgate was a welcomed addition.
"I think it's really cool," said Skyline sophomore Larkin Babbitt. "I think we're growing a lot as a school and this is really proving it. We're getting more into the routine of things."
Fellow student Miller Patterson agreed.
"It's definitely cool that they're trying to do something like this," Patterson said. "This could get pretty big. We haven't really had pride for our football team around the school, so if this gets big like that, it would be pretty hype."
As head coach Lee Arthur is trying to build a tradition at Skyline on the field, he is happy to see the same sort of effort from the boosters and students off of it.
"It means a lot because we are trying to build tradition. We're trying to give these kids something steady," Arthur said. "We're trying to stabilize this program and the community and our school is doing a great job of building and working together for the best interest of the school and our student athletes."
Arthur said the players are feeding off of the enthusiasm as well.
"It's kind of new for this group because most of these kids weren't on the varsity team last year," Arthur said. "Everything is new for them. They respect our student body and our staff for what they're doing for us and I respect what I saw from the pregame."
Although it was only the first night of the new tradition, Maulbetsch thinks it's the start of something fun.
"It can get everybody fired up before the game and it builds a sense of community," she said.