Posted on
Fri, Apr 26, 2013 : 8 a.m.
Skyline baseball aiming for 20-win season, and it's off to a good start
By Kyle Austin
The Skyline baseball team's goal every year is to win 20 games, and it's hard to come closer than it did last year.
The Eagles opened districts with a 19-15 record, and drew Pioneer in a quarterfinal game. The game went to extra innings after both pitchers threw complete games, but ended for Skyline on a sacrifice fly in the bottom of the eighth inning.
The result was short of the team's goals, but still marked progress for the third-year varsity program.
THE INSIDE SCOOP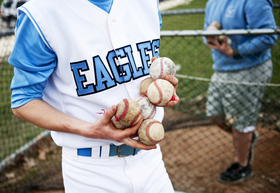 Record:
7-1
Upcoming competions: Monday, April 29 vs Dexter, 4 p.m.; Thursday, May 2 vs. Saline, 4 p.m.; Monday, May 6 at Lincoln, 4 p.m.

Top Players: Senior Jack Clark is the team's No. 1 pitcher and starting shortstop, and is coming off hitting .423 last year. Center fielder Joel Frison a junior, hits second in the lineup and scored 31 runs last year. Sophomores Brody Stevens and Matt Blunk have also made key contributions this year.

Traditions: Skyline's players organize plenty of activities away from practice, from offseason workouts to team dinners to golf outings. "It's nice to see. A lot of if they do on their own, it's not me," Garcia said.

Jokers: There's plenty of good characters on the team, but according to Clark, Stevens ("The kid's a clown, really can make everyone laugh. When he starts talking, you can't really take him seriously") and senior Patrick Lewis ("He never fails to make me laugh") are the biggest.
Quote: "Every time we get out on the field, it's kind of just two hours with the boys." -- Senior Jack Clark
"It's come a long way," junior center fielder Joel Frison said of the program "The first year I think we won six or seven games, and this year we have a good chance, like I said, to win 20-plus games. And now since we're competing in the city and in the SEC as well, it's pretty much a 180-degree turn."
This year, the odds of cracking the 20-win barrier are better than ever. The Eagles are off to a 7-1 start to the year. That includes a road sweep of Chelsea Tuesday and a home win over Adrian Wednesday. The Eagles were scheduled to take on Pioneer Thursday but were rained out.
With a second-year coach and a talented -- albeit young -- roster, the Eagles are hoping that early success continues as they get into the meat of their SEC schedule.
"I've got a lot of young talent, and we'll probably get better and better as the season goes on, which is going to be nice," coach Frank Garcia said. "So far I don't think we've even come close to playing our best abilities. It's nice to know that we have a good future in the program.
Jack Clark is back this year as the team's No.1 pitcher, starting shortstop when he's not on the mound and No. 3 hitter in the lineup. He was first-team All-Conference and All-District last year.
Frison, sophomores Brody Stevens and Matt Blunk add more pop to a lineup, and Ben Sadis serves as the team's No. 2 pitcher.
And whether they're on the field or off of it, Clark said it's a cohesive group.
"We can just really get along, it's the biggest thing, there's no feuding between teammates or anything," Clark said. "Everyone's really cool with each other, we can joke around between drills but when it's time to bear down and take the field we're able to do that."
Before becoming the varsity head coach before last season, Garcia spent one season as the junior varsity coach and one season as the freshman coach.
That means this year's graduating class, Skyline's second, has had him as coach for all four years of their high school baseball careers.
"Coach Garcia's done a great job with us, he really knows us well, not only on the field but off of it too," Clark said. "He can tell if something's bothering a kid, he does a really good job of managing us.
And with plenty of young faces on the group, Garcia is often telling the team to watch how the veterans carry themselves, take batting practice and the like.
Heps hoping that group will be the one to lead the program to 20 wins and beyond.
"It's kind of like a project, building to this moment," Garcia said. "So it's kind of nice to see where they've come and how much they've improved."
Kyle Austin covers sports for AnnArbor.com. He can be reached at kyleaustin@annarbor.com or 734-623-2535. Follow him on Twitter @KAustin_AA.