Posted on
Tue, May 14, 2013 : 11:20 a.m.
Skyline baseball splits with first-place Temperance Bedford and more Monday results
By Kyle Austin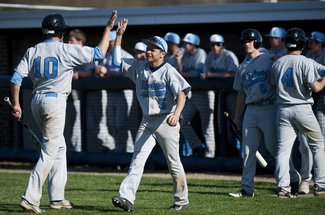 Daniel Brenner | AnnArbor.com file photo
Baseball
Skyline 11, Temperance Bedford 8; Bedford 8, Skyline 7
Story | Boxscore
Skyline and visiting Temperance Bedford split a baseball doubleheader on Monday, with Skyline winning Game 1 11-8 and Temperance Bedford winning Game 2 8-7.
Skyline's Jack Clark threw eight strikeouts in seven innings, Matt Blunk and Justin Woods both had two hits, two RBIs and a double, and Temperance Bedford's Kyle Quhr had four hits, one double, and a home run.
"I thought we battled in both games," Skyline coach Frank Garcia said. "Both were close."
Softball
Chelsea 12, Lincoln 0; Chelsea 14, Lincoln 9
Story | Boxscore
The Chelsea softball team's offense led the team to sweep host Lincoln 12-0, 14-9 in a Monday doubleheader.
"We hit the ball really well," Chelsea coach Bob Moffett said. "I credit our kids for staying back, hitting line drives, and not popping up."
Chelsea's Madeline Day totaled six hits, including a triple, and drove in two runs, and Taylor Cooley totaled five hits, three runs, and three stolen bases. Bailey Darwin drove in six runs with her four hits, one of which was a double. Rylee Rosentreter struck out nine and walked only three in her 13 innings.
Lincoln's Jessica Sanchez totaled two hits, both doubles, Arielle Matthews totaled two hits, one of them a double, and Lauryn Hood totaled two hits.
Boys Golf
SEC Red Quad at Tecumseh
Story | Boxscore
The Saline boys golf team improved to 9-0 with a first-place finish in Monday's Southeastern Conference quadrangular meet at Hantz Country Club in Tecumseh.
Saline senior Caleb Wittig shot a 1-over-par 37, good for medalist honors. Hornets junior and top scorer Ian Martin put up a 38, helping Saline finish 12 shots ahead of second-place Pioneer.
Matt DeIrala and Alex Derksen each fired a 40 to round out Saline's 155 total on the front nine of the traditional, yet tricky layout.
"It's an old-style course with a lot of big, mature trees," Saline coach Debbie Williams-Hoak said. "The greens are difficult to read and sloped. A consistent theme from the guys coming in was the trouble they had putting."
Keegan Tape paced Pioneer with a 40, while teammates Davis Argersinger and Nate Yankel came in with 41s. Adrian, which finished fourth, had Matt Marok's 40 to hang its hat on.
SEC White Quad at Temperance Bedford
Story | Boxscore
Dexter topped Monroe, Temperance Bedford, and Chelsea with a team score of 167 to finish in first place on Monday.
Dexter's Kyle Worthy, Monroe's Tyler Kellems, and Bedford's Joey Dier each shot 40 on the par 36 course to each place as medalist on the day.
"It was a pretty respectable round today," Dexter coach Pete Lundy said. "(Worthy) shot well to tie for the medalist honors, so he had a good performance."
Girls Lacrosse
Saline 15, Father Gabriel Richard 8
Story | Boxscore
Host Saline scored eight goals in the second half, after taking a 7-5 halftime lead, to record the 15-8 win over Ann Arbor Gabriel Richard in girls lacrosse action on Monday.
Miranda Lessner recorded five goals to lead Saline (10-3), while Chelsey Bishop added four.
Sophomore Hannah Krus made 10 saves to record the win.
"We did some good things, but we didn't do as well in other areas," Saline coach Deb Elliott said. "We could have been a little sharper in some aspects of our play, and we really just need to be more consistent."