With Gallery:

Huron and Skyline volleyball teams win district semifinals, will play for title Friday

Posted on Wed, Oct 31, 2012 : 10:42 p.m.
Huron volleyball coach Toney Cummer won't go as far as to call his team the favorite in this week's Class A volleyball district at Skyline High School.
But he knows a 47-5-4 regular season record will draw some attention.
"Forty-seven wins in the regular season makes it even scarier to be here," Cummer said. "We've come in the past and not had any pressure on us to win the district, let alone even get through the first round. It's kind of uncharted territory for us."
Huron did little to dispel any attention Wednesday, as it beat Pioneer in three sets, 25-10, 25-20, 25-9, in the district semifinals.
With the win, the River Rats advance to the 7 p.m. Friday final. There they will face Skyline, which topped Dexter, 3-1 in the second semifinal.
Related coverage: Pioneer-Huron boxscore | Dexter-Skyline boxscore | Dexter-Skyline photos | Bracket
Huron is looking for its first volleyball district title since 1993. Skyline is looking for its first since the varsity program started in 2008.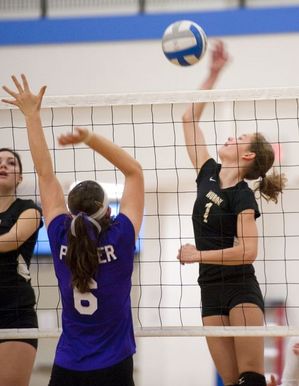 "I'm really excited," Skyline coach
Cassie Petoskey
said. "This is what we have been looking forward to."
For Huron, a district title would culminate a three-year process. With a young 2010 team, Cummer told his players it would be a struggle to have success at first. The team improved to 30 wins last year, but couldn't advance out of the district semifinals.
This year, with five returning players from that 2010 team, the River Rats set a school record for regular season wins, and now have their sights set on an elusive district crown.
"It would be huge for our team," Cummer said. "It's something that we've talked about for three years now."
Huron was led Wednesday by Kristen Vyletel's 14 digs, 13 kills and four aces. Kelsey Aaronson had 16 digs and Alyssa Miller had 30 assists.
"I think as Huron came out strong, they weren't dropping balls, they weren't making errors, and I think that just got under our skin a little bit," Pioneer coach Amy Hoag said.
Skyline topped Dexter, 25-22, 26-24, 23-25, 25-18. After a second set that saw seven ties, including at 24-24, the Eagles took the set on a kill by Ally Austin. to take a strong lead.
"My team is always really good at the end," Petoskey said. "They always kind of hang out in the middle, and in the end they're like 'We want it so bad.' It's happened multiple times throughout the season."
Austin led Skyline with 20 digs, Alexa Pinsky had 21 assists and Melissa Chime had 13 kills.
Skyline and Huron will now face off for the fourth time this season, after the Eagles won two of the first three. Skyline's two wins against Huron came in tournaments, the last on Oct. 13 when the Eagles won the third set, 15-13. Huron won the dual match between the two teams on Oct. 2.
"It just makes it even more exciting that it's Huron," Petoskey said. "It's always a good game when we play Huron, no matter what.