Posted on
Thu, May 23, 2013 : 10:03 a.m.
Skyline edges Saline to take SEC golf title and more Wednesday results
By Kyle Austin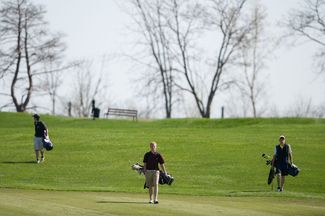 Courtney Sacco | AnnArbor.com file photo
Boys Golf
SEC Conference Tournament
Story | Boxscore
The Skyline boys golf team edged Saline by three strokes, 311-314, to take top honors at the SEC conference tournament at Eagle Crest Golf Course on Wednesday. The win clinched Skyline's first SEC conference championship in the program's history, after trailing Saline in the standings for most of the season.
Connor Lang and Josh Bourque each shot three-over-par 75 to lead Skyline, while Arthur Denys (79) and Ian Marshall (82) rounded out the scores for the Eagles.
"I was happy with our performance today, and everyone seemed to stay consistent throughout the tournament," Skyline coach Ashley Mantha said. "Arthur shot the lowest score of his career, and that really helped our team score. Connor, Josh, and Shane Anderson all made the All-Conference team too; it was a big day for us.
"We were motivated to get past Saline at the end, and we were able to do it at the most important meet of the year. We are hoping this momentum carries over to the post-season."
Saline's Caleb Wittig took medalist honors with a 74, while Alex Derksen (79), Ian Martin (80), and James Alcock (81) rounded out the scores for the Hornets.
"We are disappointed with the finish, especially after leading for most of the season," Saline coach Debbie Williams-Hoak said. "The conference meet is worth twice as many points in the standings, and Skyline leap-frogged us by winning today."
Track and Field
Catholic League Championships
Boys Recap | Boxscore
The Father Gabriel Richard boys track team won 8 of 16 events to capture the Catholic League Class C and D Championship on Wednesday at Livionia Ladywood.
The win is the fifth in eight years for Gabriel Richard, which finished with 183.5 points. Royal Oak Shrine took second place with 81.5 points and Waterford Our Lady of the Lakes was third with 57.
"We lost here last year, so we were motivated to have a better performance this time around," Gabriel Richard coach Don Canham Jr. said.
Colin McNally was a three-time winner for Gabriel Richard, taking first in the 1,600-meter run (4:52.90), the 3,200 run (10:50.30) and the 3,200 relay (8:58.80).
Teammate Sean Donnellon won two field events, taking first place in the discus (142-feet-6) and the shot put (50-3.5), and Matt Mackey won the 300 hurdles (41.60) and the 800 relay (1:33.30).
The Father Gabriel Richard girls track and field team beat out Royal Oak Shrine 138-137 for the Catholic League championship title on Wednesday.
First place medalists for the Fighting Irish were: Kelly Bindon in the 100 hurdles (17.1), Grace Glagola in the 800 run (2:26.3), and Kora Dreffs at shot put (3'8"). Ann Arbor Gabriel Richard teams won the 3,200 relay (10:49.5) and 1,600 relay (4:21.7).
Huron League Championships
Boys Recap | Boxscore
Kalif Kelsey notched three of Milan's seven victories in his team's first place finish at the Huron League championship meet on Tuesday at Milan.
Milan scored 150 points, followed by Carleton Airport with 117, Riverview (110), Monroe Jefferson (96), and New Boston Huron (47).
Kelsey won the long jump, clearing 20-feet-3.5, the 100-meter dash (10.9 seconds), and the 200 dash (22.85). Milan won the 800 relay (1:32.5) and the 3,200 relay (8:21.89).
Nicole Lange notched four of Milan's eight victories as the Big Reds finished first on Tuesday at the Huron League girls track and field championships hosted by Milan.
Milan scored 185.5 points, followed by Grosse Ile (116), Monroe Jefferson (80) and Carleton Airport (74). Lange won the long jump, clearing 16-feet-1, the 100-meter dash (12.9 seconds), the 400 (1:01), and the 200 (26.7).
Kyle Austin covers sports for AnnArbor.com.