Posted on
Thu, May 30, 2013 : 1:50 p.m.
Skyline escapes with OT win, golfers advance to regionals and more playoff results
By Pete Cunningham
Girls soccer
Skyline 3, Howell 2
Story | Boxscore | Bracket
After giving up the tying goal with 11 seconds left in the game, the Ann Arbor Skyline girls soccer team held on in overtime to defeat Howell in the opening round of the Division 1, District 4 tournament at Howell High School on Wednesday.
Cienna Rael-Whitsitt scored the game winning goal in OT after having an assist in regulation.
"She (Rael-Whitsitt) played very well," Skyline coach Chris Morgan said. "She was able to finish on her scoring chances and was very composed in some clutch situations for us."
The Highlanders scored two goals against Skyline, a feat unmatched by any other team this year - a fact that was not lost on Morgan.
"This was one of those games were we didn't play as well as we should have," Morgan said. "We were fortunate to pull out the victory. Howell really pushed us; they pressured us well and made us make some uncharacteristic mistakes."
Skyline advances to the semifinal round against Ann Arbor Huron at Huron High School on Thursday at 5:30 p.m.
Father Gabriel Richard 7, Hanover Horton 0
Story | Boxscore | Bracket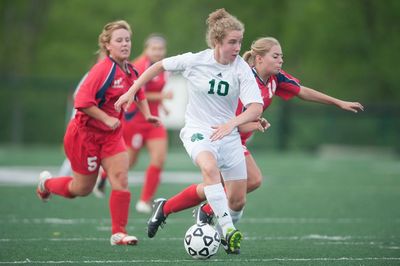 Courtney Sacco | AnnArbor.com
Freshman Lilly Geppner and sophomore Kendall Levens led the Ann Arbor Gabriel Richard girls soccer team with two goals each, as The Fighting Irish topped Hanover-Horton 7-0 in a district semifinal on Wednesday.
Tymi Staub, Kaitlyn Conway and Hadley Yoas each added a goal.
"Geppner and Levens got going tonight," Gabriel Richard coach Matt Carroll said. "(Staub) scored all four of our goals against Stockbridge last game, so we spread it around."
Gabriel Richard will host Jackson Lumen Christi (who shutout Brooklyn Columbia Central 7-0 in round one and Onsted 6-0 in round two) in a division final on Friday at 6 p.m.
Boys golf
Saline, Skyline, Pioneer and Huron advance to regionals
Story | Boxscore
Chris Kozler shot a one-over-par 73 to lead Plymouth boys golf team with a 308 for first place at a Division 1 district final at Pine View golf Course, while Saline shot a 312 for second place.
Caleb Wittig led Saline with a 74, followed by Ian Martin's 68. James Alcock and Ryan Peruski each added an 80. Skyline advanced to regionals with a third place finish and Huron and Pioneer advanced after tying for fifth.
Milan finishes third, advances to regional
Story | Boxscore
Milan senior Lester Lancaster carded a 3-over 74 to finish second and the Big Reds qualified for regional play with a third place finish.
"Les Lancaster had one of his better scores of the season, and he is playing really well right now," Milan coach Scott Hadley said. "He keeps getting better and better. We worked a lot on his short game with putting and chipping. He was struggling with his wedges and putting earlier in the season. We've spent a lot of time on it, and he has just taken off since then."
Hadley was happy with Milan's regional qualification. However, he knows his team can perform better than Wednesday's scores indicated.
"As a team, we didn't have one of our better days, but we did accomplish our goal of making it to regionals," Hadley added. "A couple of our other players struggled with decision making and didn't have their usual low scores."
Chelsea advances to Division 2 regional
Story | Boxscore
The Chelsea High School golf team advanced to next week's regional tournament after finishing fifth in in its district on Wednesday.
"We're a good team, not a great team, so doing well at districts was a big goal for us this year," Chelsea coach Joe Ewald said. "We're young and inexperienced, and none of our golfers had played in a district before."
Baseball
Manchester 8, Adrian Madison 1
Story | Boxscore | Bracket
Ryan Stiles had two RBIs on three hits and stole three bases, leading Manchester to an 8-1 win in the Division 3 district opener on Wednesday. With the win, Manchester advances to Saturday's four-team district tournament, which it will host.
Will Montgomery drove in two runs with two doubles, and Ben Wilson added three hits.
Benn Allen earned the win for Manchester, striking out four, walking one, and giving up two hits and one earned run in five innings.
"Brad was in control the whole time on the mound," Manchester coach Corey Fether said.
Softball
Manchester 12, Adrian Madison 1
Story | Boxscore | Bracket
Manchester's Kayla Boote went 2 for 3 with a two-run home run to help the Flying Dutchmen softball team win 12-1 in five innings over Adrian Madison in 2013 Division 3 District 83 at Manchester on Wednesday. Mae Hamilton went 2 for 3 with two doubles and three RBIs, and Katie McClure drove in three runs and struck out six batters in five innings to earn the win.
Manchester scored four runs in each of the first three innings.
"We batted our whole order in the first," Manchester coach Liz George said. "Boote hit a two-run homer in the third inning, her third home run of the season.
"We hit the ball really well today. We're a totally different team when we come out and hit the ball. We have to continue to hit and do some of the little things well."
On Saturday, Manchester hosts two-time defending state champion Clinton.
Girls lacrosse
Pioneer 17, Saline 5
Story | Boxscore | Bracket
Ann Arbor Pioneer sophomore Juliette Killough scored five goals and had one assist in a 17-5 win against Saline in the girls lacrosse Division 1 State Tournament regional Wednesday at Novi.
Mercedes Reyes scored four goals and had two assists, Sam Zwolan scored three and had one assist, and Miranda Kruse made five saves.
Pioneer coach Zachary Maghes said his team tries to get better each day.
"That's the plan," Maghes said. "Everyone else is getting better this time of year, too."
Pioneer faces South Lyon Unified in the Division 1 State Tournament quarterfinals at 7 p.m. Friday at Novi.
"We're attempting to win our third regional championship in a row," Meghes said. "That's one of our goals on the docket."
Boys Lacrosse
Final four Washtenaw County Teams bow out of state tournament
The last four remaining Washtenaw County Teams left in the MHSAA boys lacross postseason were eliminated on Thursday.
Pioneer lost a one-goal game, 8-7, to Grand Rapids Forest HIlls Northern/Eastern (Boxscore | Bracket) in the Division 1 tournament and Saline lost a two-goal game, 9-7, to U-D Jesuit.
Gabriel Richard lost a three-goal contest to Tecumseh (Bracket) in Division 2 while Greenhills was ousted from Division 2 with an 18-2 loss to Detroit Country Day (Story | Boxscore)
Pete Cunningham covers sports for AnnArbor.com. He can be reached at petercunningham@annarbor.com. Follow him on Twitter @petcunningham.