Posted on
Fri, May 24, 2013 : 5:51 a.m.
Skyline girls soccer goes from inception to league title in five years
By Kyle Austin
Related: Tori Norris, Margo Apostoleris play key roles on opposite sides of field for Skyline girls soccer
Chris Morgan left Pioneer prior to the 2008-09 school year, looking to start a new soccer program from scratch in a new school at Skyline.
On the first day of girls soccer tryouts, seven players showed up.
THE INSIDE SCOOP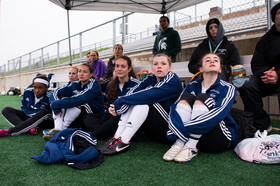 Courtney Sacco | AnnArbor.com
Record: 15-2-1 (11-0-1 SEC Red)
Upcoming contests: Tuesday, May 28, 7:30 p.m. vs. Howell at Huron
Top players: Margo Apostoleris leads the team in goals with 13, followed by Allie Moening with 11. Tori Norris anchors the team in net behind five senior defensemen.
Beating Pioneer: The highlight of the Eagles' regular season came on April 30, when Skyline beat Pioneer for the first time: "It was the first time we've ever beaten Pioneer, we beat them 3-0, and that's something we've looked forward to every year," Margo Apostoleris said.
Sister teammates: They may share a last name and a birthday, but twin sisters Margo and Alex Apostoleris are typically on opposite ends of the field, Margo at forward and Alex at defense. "I would say we're pretty different styles," Margo said. "I've played offense my whole life, she's played defense her whole life, although she does like to get up sometimes."
Sister opponents: Another set of sisters were on the field Thursday, but they were on opposite teams. Skyline junior Cienna Rael-Whitsitt faced off against her younger sister, Huron freshman Cheah Rael-Whitsitt, for the first time. Cienna said she tried to forget her sister was out there during the game. But she remembered in the handshake line. "We said 'Did you shake her hand?'" coach Chris Morgan said of Cienna. "She said 'No, I hit her in the stomach.'" Big sister took home the bragging right, scoring the game winning goal in Skyline's 1-0 win.
Soccer to football: Norris spent the fall 2012 season playing on the same field she plays soccer. Only then she had a helmet on. The senior suited up as a kicker for the Eagles football team, after coach Lee Arthur saw her kick a 45-yard field goal during powder puff football.
Quote: "Everyone is like a big family. You see a lot of teams that don't really get along, but every single one of our players love each other, and we all have a special relationship with each other, and it really helps on the field." -- Senior forward Margo Apostoleris
"I'm like 'What did I do?" Morgan said. "What have I gotten myself into?"
Morgan recalled the moment with a laugh this week, remembering the program's humble beginnings. And he can look back on it fondly, considering how far the program has come.
Skyline -- the AnnArbor.com Team of the Week -- finished its regular season with a 1-0 win over Huron Thursday night, going 10-0-1 in SEC play and 14-2-1 overall. With Thursday's win, the Eagles took the league title outright for its first time in four years of varsity competition.
"Now, you can see, we're thriving," Morgan said. "We're doing pretty well."
Now, the focus turns to the state tournament, where the Eagles will look to do something else they've never done before: win a Division 1 district title. The tournament will open Tuesday with a game against Howell at Huron.
"We have a good feeling about it this year," senior goalie Tori Norris said.
The Eagles' resume features wins over Huron and Pioneer -- the team's first win over the Pioneers -- and a tie against Saline. One of its non-conference losses came early in the season to Plymouth, 1-0. Plymouth is currently the top-ranked team in Division 1.
Norris and the defensive group that stands in front of her is one of the biggest reasons for Skyline's success. The group allowed only four goals all season, led by Norris and five senior defensemen.
The number is even more impressive considering what the team has had to do without this season. Senior defenseman Justine Jahnke is missing the season with a torn ACL, and senior Alex Apostoleris missed half of the year with a knee injury.
"I think a lot of our success is because we've had to try different things with different people," Norris said.
Those five seniors are part of a seven-member senior class. They will be part of Skyline's second graduating class this spring, and played no small part in getting the girls soccer program to this point.
"I think for us, we've had so much adversity against us, starting off with a brand new program," Norris said. "We're the second graduating class, so we started out with bringing new people in, we didn't have anyone to look up to. We had to kind of make that ourselves."
At the other end of Skyline's 4-5-1 formation is Margo Apostoleris, who leads the team with 13 goals on the year as the focal point of the offense.
"I just try to work together with everyone up top, and that's all you can do," Apostoleris said.
But the Eagles also say off-the-field chemistry has plenty to do with their success this season. The team took a trip to Florida last year and played an overnight tournament in Petoskey earlier this month.
On that trip, roommates of different grades and personalities were put together, to help build cohesion in the group.
"Everyone is like a big family," Apostoleris said. "You see a lot of teams that don't really get along, but every single one of our players love each other, and we all have a special relationship with each other, and it really helps on the field."
Now, everyone is hoping that group can accomplish another program first next week at Huron: a district title.
"We're hungry," Morgan said. "I think we're definitely hungry."
Kyle Austin covers sports for AnnArbor.com. He can be reached at kyleaustin@annarbor.com or 734-623-2535. Follow him on Twitter @KAustin_AA.