Posted on
Wed, May 1, 2013 : 10:28 a.m.
Skyline girls soccer shuts down Pioneer and more Tuesday results
By Kyle Austin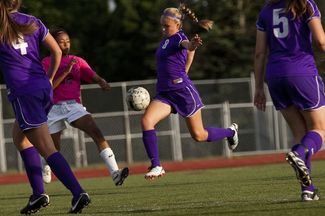 AnnArbor.com file
Girls Soccer
Skyline 3, Pioneer 0
Story | Boxscore
Skyline converted five shots into three goals as the host Eagles defeated Pioneer 3-0 Tuesday in a Southeastern Conference Red Division win.
"It's a crosstown rivalry," Skyline coach Chris Morgan said. "It is hard to control the emotions and play the game, but our girls rose above that. We had a pretty good game plan in place and our girls executed very nicely."
Allie Moening, Sydney Hutnik and Alex Apostoleris each scored for Skyline (6-1, 3-0), while Tori Norris made four saves.
Sofia Gambini stopped two shots in net for the Pioneers, who dropped to 2-3-1 overall, 2-1 in the division.
Chelsea 2, Tecumseh 0
Story | Boxscore
Chelsea's Krista Pagliarini made three saves in a 2-0 shutout against host Tecumseh on Tuesday.
Nikki Liedel and Hayley Bunten each scored a goal.
"We had more possessions and created opportunities as the game went along," Chelsea coach Shawn Hayes said. "We weren't able to finish a lot of the chances we had at the goal, though."
Baseball
Skyline 11, Pioneer 2; Skyline 5, Pioneer 2
Story | Boxscore
Skyline remained undefeated in the Southeastern Conference Red Division after sweeping host Pioneer 11-2 and 5-2 in a doubleheader on Tuesday.
Skyline sophomore Matt Blunk struck out eight batters in Game 1, and Thomas Friedlander held Pioneer to four hits in Game 2.
"Our pitchers threw strikes and kept guys off balance," Skyline coach Frank Garcia said.
Brody Stevens led the Skyline offense, scoring two runs and driving in three on two doubles and a single. Liam Aronoff and Jack Clark each had two hits, with Aronoff adding two RBIs.
Milan 11, Monroe Jefferson 2
Story | Boxscore
Milan trailed 2-1 going into the sixth inning against Monroe Jefferson before scoring 10 runs in the final two innings.
Jacob Hendricks started the rally with a pinch-hit, three run double after Monroe Jefferson walked two batters, to give Milan the lead. The hit was the first of four straight which resulted in six runs in the inning for Milan.
Milan continued the streak by scoring four runs in the seventh to extend its lead to 11-2. Kyle Schrader struck out two Monroe Jefferson batters and allowed only one hit.
Softball
Dexter 14, Huron 3; Dexter 13, Huron 0
Story | Boxscore
Dexter's Lauren DeHaan and Aubree Whitley recorded wins.
Brooke Lupi led with six hits and 10 RBIs, hitting three home runs, one triple, and two doubles, while Savannah Krull had six hits and six RBIs.
"We hit the ball well and had runners in scoring position all game," Dexter coach Mark Whitley said. "We had good defense and our pitcher both threw good games."
Kyle Austin covers sports for AnnArbor.com.