Posted on
Tue, Apr 9, 2013 : 11 p.m.
Skyline lacrosse tops Okemos for 'easily the biggest win Skyline's ever had' and more Tuesday results
By Kyle Austin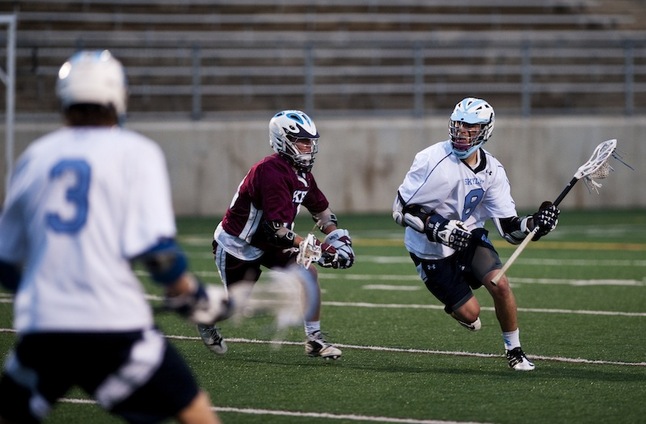 Daniel Brenner | AnnArbor.com
After giving up the first goal of the game, the Skyline boys lacrosse team scored eight consecutive goals to clinch a 9-2 win Tuesday night against Okemos.
And when all was said and done done, the Eagles had bagged what their coach calls the biggest win in program history. Okemos finished last season ranked as No. 7 in the Lax Power rankings.
"That's easily the biggest win Skyline's ever had," Skyline coach Jack Robenalt said. "Last year we beat Huron and they were not even close to that highly ranked, and that was our best win. A 9-2 win against the No. 7 team in D2 is a big win for us."
More Coverage: Boxscore
Freshman Zach Schwartz and senior John Crowley led the Eagles offensively with three goals apiece. Sophomore Alex Wood had a goal and two assists.
But before a fourth-quarter surge that put the game away, it was Skyline's defense that got the job done. Goaltender PJ Merica recorded 10 saves, and the Eagles defensive group led by Eric Guldberg, Jack Floyd and Ben Brinkherhoff held Okemos to 12 shots.
"Those three played great," Robenalt said. "PJ played awesome in goal though. He kept us in the game early when we couldn't score and sealed it at the end."
Following Okemos' first goal, Schwartz scored a pair in the first quarter to give Skyline the lead. The Eagles tacked on two more before halftime.
After a scoreless third quarter, Skyline held a tenuous three-goal lead. But four goals in a span of four minutes and five total in the fourth quarter helped the Eagles put the game away.
"Last year they had trouble kind of putting the pedal down when they needed to, and today they did a good job of that in the fourth quarter when they needed to score, because Okemos had a couple of shots that were kind of threatening," Robenalt said. "We really needed a goal and we put in five."
Boys Track and Field
Saline 103, Pioneer 36
Story | Boxscore
Saline took first place in 13 of the 17 events, including each of the relay events, to win the rivalry meet in its first outdoor competition of the season.
The Hornets controlled the field events, sweeping the shot put, high jump and discus, led by senior captain John Smutney's wins in the discus (147-feet-5.0) and shot put (50-8.5).
Andrew Kitto won the 800-meter run in 1:58.33, and Ryan Gauche took the 400-meter run in 44.54, as Saline grabbed the top-four places in both events.
"It bodes well when you have strength in the intermediate distances," said Saline coach Al Leslie said, whose team finished a school-high third place in Division 1 the previous year. "Our overall depth is what made the difference."
Tyler Leach won the pole vault for Pioneer with a vault of 14-9, and Tre Brown took the 110-meter hurdles in 15.8 seconds.
Chelsea 111, Ypsilanti 23
Story | Boxscore
Chelsea's Zach Rabbitt recorded three wins for his team to lead the Bulldogs to a 111-23 win over Ypsilanti.
Rabbitt finished first in the 800 meter run with a time of 2:04.5.
Teammate Shane McGraf earned two first-place finishes in the 110 hurdles (16.00) and the 300 hurdles (42.20).
"We scored a lot of points because we had more depth than what Ypsilanti did, but it was a good start to the season overall," Chelsea coach Eric Swager said. "Our season will depend on if we stay healthy, and if our throwers and sprinters come along and improve."
Girls Soccer
Pioneer 2, Trenton 2
Story | Boxscore
Pioneer's Brianna Worthy scored the equalizer with a minute remaining to force a 2-2 draw with Trenton on Tuesday. Jenny Fichera was credited with the assist.
Pioneer played a series of short passes in the along the left wing before Fichera crossed the ball across the six-yard box for Worthy to finish.
Trenton led 2-0 with 12 minutes remaining before Lena Katterman scored off a 25-yard free kick.
Sofia Gambini was in goal for Pioneer.
"Every game that we have had on the schedule had been cancelled, so this was our first game of the season," Pioneer coach Chris Coleman said. "Both of their goals were defensive breakdowns for us, which is fine, but those are things that we can correct. Considering it was our first match it was what I expected.
Dexter 1, Mason 0
Story | Boxscore
Dexter outlasted Mason 1-0 in a tightly contested game. The win gave Dexter its third on the season.
Lindsey Lloyd was knocked over inside of the penalty box with 13 minutes left in the first half, and was given a penalty kick. She scored on the kick to give the Dreadnaughts the slim lead.
"It was a soft call," Dexter coach Scott Forrester said.
Goalie Stephanie Misevich added two saves to help hold of Mason.
Girls Track and Field
Saline 101, Pioneer 36
Story | Boxscore
Quenne' Dale finished first in 100 hurdles, 100 dash and the 200 dash to help Saline earn a win over visiting Pioneer on Tuesday.
"Pioneer is always a big meet for us," Saline coach Brian Boze said. "We had a lot of great, great performances."
Wendy Szuminski won two events on the day for Saline as well, including the Pole Vault (9-6) and high jump (4-10).
Pioneer had top finishers in the 800 relay and Jordan Dresch in the 400 dash.
Visit Mlive's High School Sports Network for full Tuesday night results