Posted on
Thu, Nov 10, 2011 : 12:21 p.m.
Skyline playing in its first boys water polo finals; Huron, Pioneer and Dexter also among state's final 8
By Matt Durr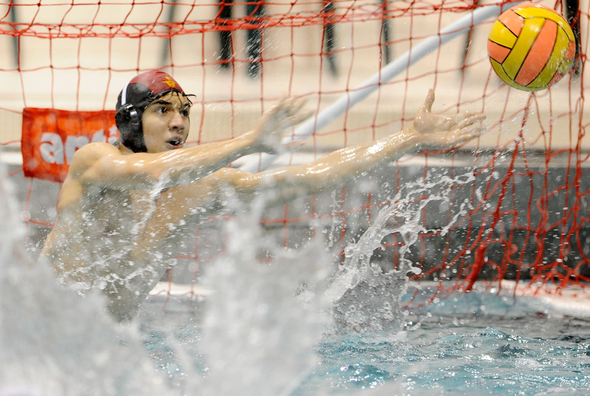 Melanie Maxwell I AnnArbor.com
In just its second season as a varsity program, the Skyline High School boys water polo team is one of the final eight teams that will vie for a state championship this weekend at Saline High School.
Coach Ben Dahlmann is proud of his team's accomplishments, but isn't satisfied just yet.
"We're proud of what we've achieved, but it's a brand spanking new experience, so we don't even know what we've accomplished." said Dahlmann.
He added that his team does not want to settle for just getting to the tournament.
Entering the season, Dahlmann said one of his team's goals was to reach the Michigan Water Polo Association state tournament, and now they'll be one of four Washtenaw County teams -- along with Dexter, Huron and Pioneer -- competing this weekend.
Dahlmann said his team needs to refocus and get ready for the task at hand. There will be no time for reminiscing as the ninth-ranked Eagles will open up against top-seeded Rockford on Friday.
While Skyline is making its first appearance, long-time state championship participants Huron and Pioneer top the list of competitors for Rockford's throne. Huron is ranked No. 2 in the state and Pioneer is No. 3.
Pioneer beat Huron, 5-4, in the MWPA East Region championship game in East Lansing on Oct. 29.
Rockford has won seven of the last eight state finals -- a streak interrupted only by Huron's win in 2009. Before Rockford's streak, Pioneer won five of six titles from 1997-02.
Dexter, which beat Skyline 6-4 in the East Region consolation game, is ranked No. 7 in the state.
While Skyline will be a heavy underdog, Dahlmann believes his team is ready.
"It sounds like a cliche, but I think we're peaking at the right time," said Dahlmann. "We want to make some noise in this tournament."
The Eagles' program started four years ago when the school opened and was a junior varsity squad for its first two years. Each year the program has seen improvements, including last week's fourth place finish at the regional tournament.
With senior captain Jonathon Muriu out with an injury, Dahlmann is hoping the defense -- led by Ben Merte and Blair Majeske and goalie Alex Dewhirst -- can step up over the weekend for the Eagles.
"Our team does well defensively; we're going to rely on our goalie, Alex Dewhirst," Dahlmann said.



WATER POLO STATE FINALS SCHEDULE
Friday
Quarterfinal round
Pioneer vs. Grandville, 4 p.m., Winner plays Hudsonville vs. Dexter winner in Semifinal 1.
Hudsonville vs. Dexter, 5:15 p.m. Winner plays Pioneer vs. Grandville winner in Semifinal 1.
Skyline vs. Rockford, 6:30 p.m. Winner plays Huron vs. East Kentwood winner in Semifinal 2.
Huron vs. East Kentwood, 7:45 p.m. Winner plays Skyline vs. Rockford winner in Semifinal 2.
Saturday
Championship bracket
Semifinal 1, 10:30 a.m.
Semifinal 2, 11:45 a.m.
Final, 7 p.m.
Medal round
Third place match, 5:45 p.m.
Fifth place match, 4:30 p.m.
Seventh place match, 3:15 p.m.