Posted on
Wed, Nov 2, 2011 : 11:25 p.m.
Skyline volleyball team advances to first district final, Brighton tops Pioneer
By Matt Durr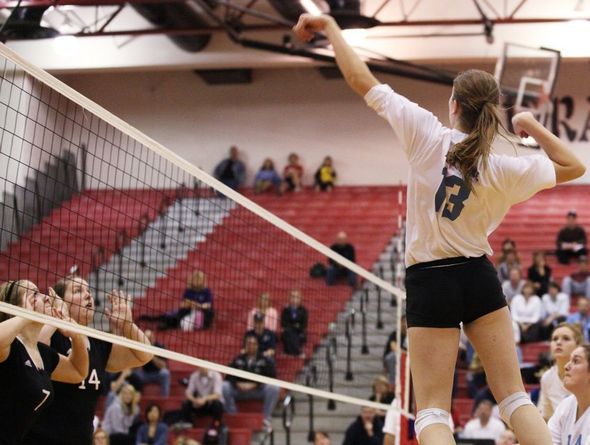 Jeff Sainlar | AnnArbor.com
PINCKNEY -- Led by senior Maggie Halloran, the Skyline High School volleyball team reached its first district final on Wednesday with a straight set sweep of Pinckney.
Halloran paced the Eagles with nine kills, eight digs and 10 aces in the 3-0 (25-12, 25-11, 25-14) victory over the host Pirates. In the second set, Halloran held serve for 11 consecutive points, pushing the Skyline lead from 6-2 to 17-2 in the blink of an eye.
"Maggie is always one of our more consistent players," said Skyline coach Cassie Petoskey. "But she wouldn't be able to hold serve like that without her teammates."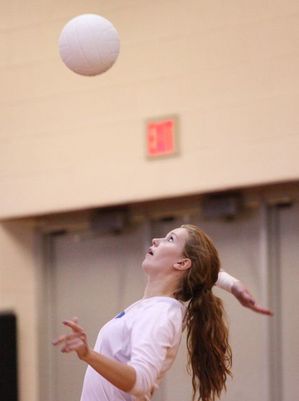 Jeff Sainlar | AnnArbor.com
Fellow senior
Katie Austin
wasn't far behind Halloran with eight kills and seven digs for the Eagles.
Sophie Bolz
added six aces to the attack that forced numerous errors by Pinckney.
In the opening set, 12 Skyline points came from Pinckney errors.
The victory was the second straight sweep for Skyline after a 3-0 win over cross-town rival Huron Tuesday in the first round of district play. Petoskey feels her team is coming together at the right time.
"I've been telling them all season that we need to be playing well in the end," said Petoskey. "I've been harping on them about coming out strong."
Petoskey said it seemed to click for her team Tuesday against Huron as the girls played off the emotions of playing against a rival.
Brighton kept it from being an all-Ann Arbor final with a 3-0 sweep (25-12, 25-18, 25-17) of Pioneer in the second semifinal of the night.
"I'm absolutely pleased with their effort," said Pioneer coach Amy Hoag. "I think our team played as well as they could against Brighton."
The Pioneers struggled to get points on the board. Nearly half of their total points were scored off of Brighton mistakes and not their own doing.
"They did a great job controlling the net," Hoag said. "We just couldn't push through the block."
Pioneer was led by freshman Abby King, who had four kills and seven digs. Senior Alexus Pace-Patterson had a team-high 14 digs to help out defensively.
In both the second and third sets of the match the teams were tied 3-3 early and in both sets, Brighton would go on 10-3 runs to effectively put the set out of reach.
Hoag was satisfied with the effort of her young team, which had four freshmen starters.
"Both my freshmen setters have become much more clever. They know how to run an offense now and not just set the ball," said Hoag. "I'm already thinking about next year and that's great. I'm excited to have the returners we have coming back."
Skyline will face Brighton on Friday night at 6 p.m. at Pinckney High School in the Class A district final.