high school football:

Big first half enough for Skyline as Huron comeback falls short in 41-34 Eagles win

Posted on Fri, Sep 28, 2012 : 9:45 p.m.
Updated 11:55 p.m.
The Huron and Skyline football teams both played one half of strong football on Friday night at Skyline High School.
Skyline in the first, Huron in the second.
The 28 point lead Skyline was able to build up in the first two quarters proved to be enough of a cushion as the Eagles were able to fend off a second half comeback from Huron and escape with a 41-34 win on homecoming.
Huron put up 21 unanswered points in the second half, but the River Rats needed 28 and fell just short of a spectacular comeback.
Huron coach Cory Gildersleeve looked dejected after the game as he sat on the bench exhausted, a couple feet away from where Skyline's Willie Clark and Willie Elam wrestled an onside kick away from a Huron player with a minute remaining to stop Huron's comeback efforts.
"It's a disappointing loss," Gildersleeve said. "I'm proud of the kids they fought 'til the end they fought to the last play, but we just made too many crucial, crucial mistakes in the first half."
More coverage: Boxscore at MLive.com | Football roundup
Skyline (2-4, 1-3 SEC Red) scored all of its points in the first half and proved it's not how long you have the ball, it's what you do with it, scoring on big plays early to take a 41-13 first half lead. Despite only running 11 offensive plays and only possessing the ball for five minutes, 30 seconds, Skyline was able to build a large lead over its crosstown and Southeastern Conference Red Division rival.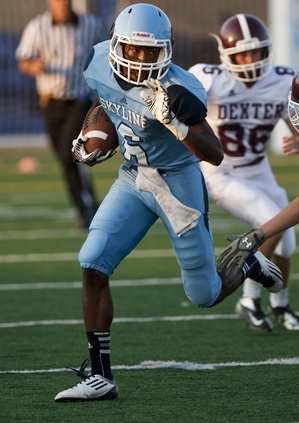 AnnArbor.com file photo
In contrast, Huron ran 45 offensive plays in the first half and had possession for 18:30.
Big plays by Skyline wide receiver Percell Franklin made it so Skyline didn't need the ball for very long to be effective. Franklin had four touchdowns in the half, including kickoff returns of 97 and 82 yards on the first and final plays of the half.
"My blocks were there, my hole was there so I just went for it. And after that, I'm just too fast, so there was no way they were catching me," said Franklin who finished with three catches for 86 yards.
Franklin's two special teams scores and an Elam 10-yard fumble return for a touchdown also helped the Eagles build up their lead without needing to run many plays.
After Franklin opened the game with the score, Huron put together a 6:45 drive, but stalled just outside the Skyline red zone. Long drives with little payout hurt the winless River Rats all night.
"We haven't played like that in weeks and I don't know why we made those types of mistakes tonight," Gildersleeve said. "We'll have to watch the film and evaluate the film break it down and see where our breakdowns came from."
Freshman quarterback Josh Jackson completed 17 of 31 passes for 182 yards, one interception and one touchdown and also ran for a touchdown, but it was junior backup Kevin Masini who was able to manufacture two scoring drives in the final three minutes of the fourth quarter to get Huron (0-6, 0-4 SEC Red) back in the game.
Masini finished 4 of 5 for 63 yards and a score and rushed for a touchdown as well.
"Josh has taken a lot of shots this whole year and he had taken a lot of shots tonight...he's just taken so many shots that we thought we'd go with Kev and he did a nice job," Gildersleeve said. "There's no quit in this team…you play from the first play of the game 'til the last play and you coach the same way."
Daniel Hugan had nine catches for 92 yards and a touchdown and Demetrius Sims had six catches for 70 yards and a score. Sims' best catch of the night though was a one-handed diving interception while dragging his toe inbounds on the sideline to jumpstart Huron's comeback effort.
Jack Clark had three caches for 86 yards and Askaree Crawford completed 7 of 10 passes for 205 yards, two touchdowns, an interception and ran for a score as well.
Franklin's four touchdowns were one shy of a school record, which he said he really was hoping to break when the teams came out in the second half. By the last play, however, Franklin said individual accomplishments were far from his mind.
"I was a little nervous. We kept shooting ourselves in the foot," said Franklin, who was glad to have Elam involved in the final scrum. "Willie (Elam) he reminds me of a little Ray Lewis...in practice he goes hard 24/7 wanting to hit somebody and it shows up in the game."