Posted on
Tue, Sep 3, 2013 : 5:33 a.m.
Skyline wideout finds a home, a 'fiasco' at Ypsilanti and more prep football notes
By Kyle Austin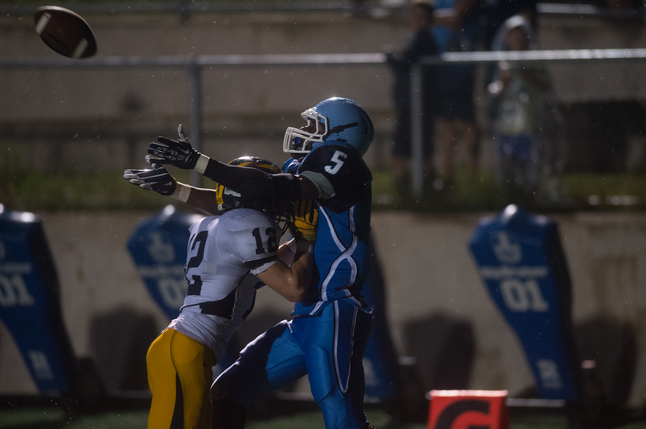 Courtney Sacco I AnnArbor.com file
There may have been no players on the Skyline football roster more eager to start the season Thursday night than Kornelius Saxton .
Saxton played 8-man varsity football his sophomore year at Eastern Washtenaw Multicultural Academy in 2011, and was ready to return to the team as a junior in 2012, before EWMA decided to cancel its season.
Saxton transferred to Skyline, but had to sit out the 2012 season due to transfer rules. He attended every practice and game, but on Friday nights was relegated to the sideline.
"It was very hard," Saxton said. "I wanted to win, and seeing them lose was just hurting me. But it was making me better."
Now, he's making up for lost time.
"I'm very ready for this season, because it's my last season, and my last chance that I can show everybody what they missed out on last year," Saxton said.
In Skyline's season-opening win Thursday over Hartland, Saxton lead all Eagles receivers with a pair of catches for 81 yards and a touchdown. He also led the defense with 5.5 tackles as it allowed the least amount of points in a game in program-history.
For one of his two catches, Saxton elevated over a Hartland defensive back in the corner of the end zone, and held onto the ball despite taking a hard fall.
"He knows that I can go and get it if he throws it far," Saxton said of Skyline quarterback Askaree Crawford. "And I have trust in Askaree too to throw it up there so I can get it."
The Eagles lost a pair of standout receivers in Jack Clark and Purcell Franklin due to graduation, but coach Lee Arthur is confident in his new crop this year. Mike Nichols also had two catches Thursday, and 6-foot-7 Tristan Wilson had one catch.
'Fiasco' at Ypsilanti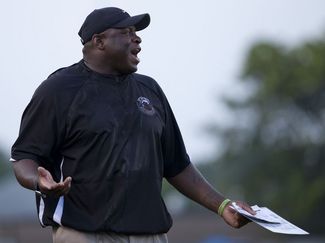 Patrick Record | AnnArbor.com file
Ypsilanti Community has played one game as a merged football program from Ypsilanti and Willow Run high schools, and has already incensed an opposing coach.
Milan coach Jesse Hoskins called Ypsilanti "unorganized and dirty," after his team's Week 1 win over YCS, calling the game a "fiasco."
"There were tons of penalties, and tons of helmet-to-helmet contact," Hoskins said. "I told my team that I've been involved with a lot of football, and this was probably the biggest victory I've been a part of. The guys were challenged and they showed their true character."
The game took place over two days, after lightning postponed the game in the first quarter Friday. The Grizzlies were assessed 140 total penalty yards during Friday's action.
YCS coach Rufus Pipkins said neither team played rougher than the other.
"For the first week, you're not used to a lot of the hitting," Pipkins said. "It was definitely a physical contest. We were physical, they were physical. We delivered a lot of hits, and we took some. It was a physical brand of football."
Hoskins told the Monroe Evening News that Milan will never again play Ypsilanti as long as he is the head coach.
Gross out
The excitement of Saline's 42-0 win over London A.B. Lucas Friday was tempered by the fact that starting running back Kevin Gross left the game three plays in with a leg injury.
Gross ran for 733 yards and 16 touchdowns last year, and tacked on 327 receiving yards.
"It's a big blow," Saline coach Joe Palka said Friday night. "He's a star player for us and was a big-time player last year. We have other kids we will rally around. We will make some changes and do what we need to be competitive."
The Hornets will now turn to Griffin Wooley, who had 448 rushing yards in 2012.
Milan also got an injury scare in their opener, when quarterback Robert Kanitz left during the first series with leg and head injuries. But he returned the next day following the lightning day to help his team seal up the win.
"Kanitz coming back and playing today after the shot he took in the knee and head yesterday was pretty remarkable," Hoskins said.
Friends don't let friends go winless
Huron snapped a 15-game losing streak on Thursday, though the River Rats did it in an unconventional way, defeating Canadian high school team Windsor Massey, 41-10.
The reason Huron was playing a Canadian team was because new Huron coach, Craig Jobe, is friends with Massey coach, Dan Gray. Gray and Jobe were teammates on the Wayne State football team and roommates as well. When Jobe mentioned to his old friend that Huron was in need of a game for the home opener, Gray was all about it.
"It's good for our guys to come and see what football's all about and to play under the lights under American rules," Gray said. "I did it when I was in school and we just thought it'd be a good experience.
"It's an exhibition game for us, a regular season game for them, but it's good to get this experience."
Though the Canadians didn't leave with a victory, they left with full stomachs as players from both teams were treated to a pizza party on the field after the game.
-- Pete Cunningham contributed to this article.
Kyle Austin covers sports for AnnArbor.com.