Posted on
Thu, May 23, 2013 : 11:58 p.m.
Skyline wins first SEC Red girls soccer title with 1-0 win over Huron
By Kyle Austin
The Southeastern Conference Red Division girls soccer title game down to a throw.
With 32 minutes left in a tie game against Huron, Skyline's Gretchen Bakker took a throw-in in Huron territory. Her toss bounced along the outside of the penalty box, until it reached the foot of Cienna Rael-Whitsitt.
Rael-Whitsitt turned and fired a shot into the Huron net for the lone goal in a 1-0 win Thursday night at Skyline.
"She usually has the farthest throw so we always have to capitalize on it," Rael Whitsitt, a junior, said. "If no one's there, no one's going to score, and I just happened to be there."
With the win, Skyline finishes the regular season at 15-2-1 and 11-0-1 in SEC play, alone in first place. It marks the team's first league title in its fourth year as a varsity program.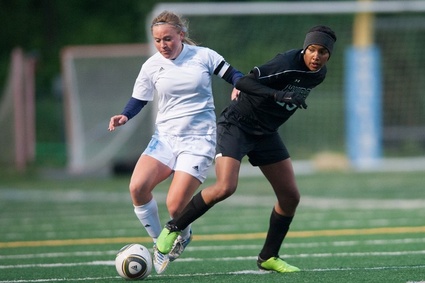 Courtney Sacco | AnnArbor.com
"It's kind of sinking in a little bit, it's a good feeling," Skyline coach
Chris Morgan
said. "We've worked hard to go undefeated in the league."
Huron made a late push to tie the game, putting a shot toward the corner of the net with three minutes left that was stopped by Skyline's Tori Norris.
The River Rats (10-5-3) finished their regular season by facing Pioneer, Saline and Skyline. They stayed in the league title race by beating Saline Tuesday -- which put Skyline in position to win the league title outright -- but couldn't pull off the win they needed Thursday for a share of the title.
"Certainly playing Pioneer, then Saline and then Skyline three games in a row is tough, so I think emotionally we're a little bit drained," Huron coach Stephen Shelton said. "But I think things are going well for us, I just don't think we had it tonight, plain and simple."
Huron had a tough time getting balls past a Skyline defense that's been staunch all season, with only four goals given up.
The Eagles are generally aggressive on the back end, sending two players from its back line up to attack. But it held back Thursday to counteract the River Rats' speed.
"Today we held back just a little bit out of respect for their front-runners, just because they have good speed up top," Morgan said.
Yet Skyline also struggled to score most of the game. The offense generated several scoring opportunities in the first half, but all either were sent wide or stopped.
The best came midway through through the first, when a hard shot by Rael-Whitsitt seemed headed for the back of the net until Huron goaltender Ariel Freed made a diving stop.
"That, I think Cienna scores eight out of 10 times," Morgan said.
Both teams will now head to Huron Tuesday for the first round of district play, with Huron taking on South Lyon and Skyline taking on Howell.
And after several lopsided scores in recent contests, Skyline heads into the tournament after one of its toughest tests of the year.
"We needed this," Morgan said. "This was a great test for districts."
Kyle Austin covers sports for AnnArbor.com. He can be reached at kyleaustin@annarbor.com or 734-623-2535. Follow him on Twitter @KAustin_AA.