Posted on
Fri, Mar 16, 2012 : 6:30 a.m.
Huron will try to slow the tempo in Class A girls basketball state semifinals
By Michael Florek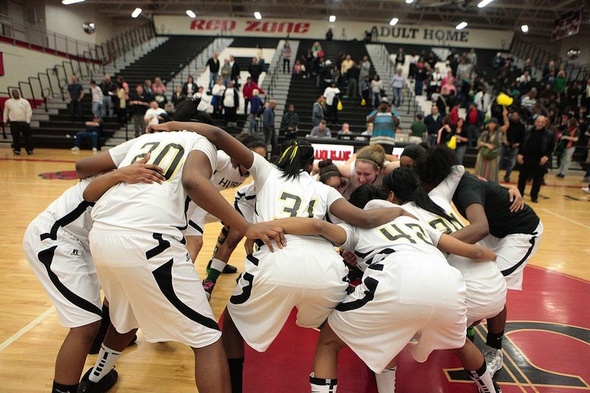 Chris Asadian | AnnArbor.com
For Huron High School, it started with words. For Grosse Pointe South, it was a picture. The goal was the same.
The River Rats talked at the beginning of the season about what they wanted to do. Get to the Breslin Student Events Center for the first time in school history and win the state championship.
On the first day of practice, Grosse Pointe South coach Kevin Richards gave his girls playbooks with a laminated picture of the Breslin Center. On it was "3/16/12" and "3/17/12," the dates of the final four.
After a marathon of a season, both teams have finally made it to East Lansing for the final sprint toward the objective set months ago.
The two will play each other Friday (2:30 p.m.) in the semifinals, and make no mistake, there will be plenty of sprinting.
Huron and South have averaged nearly 50 and 57 points a game, respectively. Playing up-tempo, high-scoring games, both teams can get up and down the floor in a hurry.
MHSAA FINAL FOUR COVERAGE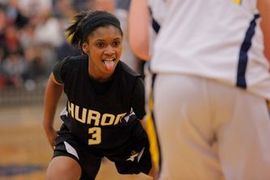 WHAT:
Class A girls basketball semifinals.
WHEN: Friday, 2:30 p.m.

WHERE Breslin Center in East Lansing.

WHO: Huron (21-5) vs. Grosse Pointe South (22-3).

WINNER PLAYS: Inkster vs. Grand Haven winner.

LIVE CHAT: MLive.com.

ONLINE: MHSAA.tv.
But only one has a track star leading the way.
South's Caitlin Moore's was part of the Blue Devils' Division 1 girls track and field state championship team last spring, an individual state qualifier in the 100-meter dash.
"We may have probably the fastest player on the floor," Richards said.
She's pretty good with the other skills too. Moore's free throws with 19.6 seconds left put the Blue Devils' up three in its state quarterfinal game with Waterford Kettering. South eventually won 58-54 with Moore's 19 points leading all scorers.
While Huron may not have the absolute fastest player on the floor, what they do have is depth, which is Richards' main concern.
"When you're able to pressure like them and have the depth, it definitely would be a concern but at the same time, we're in pretty good condition," Richards said. "I can't imagine many teams being better conditioned than us."
The River Rats saw a similar up-tempo team in its state quarterfinal win over Saginaw Arthur Hill. Instead of trying to match the breakneck pace, they worked on slowing the game down, and setting up in the half court.
It left Huron coach Steve Vinson with a new motto to preach in practice: patient aggressiveness.
"We still have our aggressive mentality, but we've got to be patient about when you apply that," Vinson said.
"What we at least proved a little bit is that we can play at different paces," Vinson said. "We certainly don't mind playing at an up-tempo pace but I think we can be effective in a slower game."
The question, then, may not be how fast Huron runs, but when.
The two will play at 2:30 p.m. on Friday. The winner will take on the winner of the Inkster, Grand Haven semifinal, which tips off at 1 p.m. Grand Haven is the No. 1 ranked team in the state while Inkster is the defending State Champion.
PATH TO THE BRESLIN
Huron (21-5)
Huron's first-ever appearance in the state semifinals is one game further than the 1995 team, which lost in the state quarterfinals.
Districts: Wins over Pioneer (48-38), Dexter (52-32) and Brighton (47-36).
Regionals: Wins over West Bloomfield (50-44) and Hartland (48-40).
Quarterfinals: Win over Saginaw Arthur Hill (52-39).

Grosse Pointe South (22-3)
This is the Blue Devils' first-ever appearance in the state semifinals. It had never won a district title before this season.
Districts: Wins over Grosse Pointe North (48-25) and St. Clair Shores Lakeview (52-17).
Regionals: Wins over Romeo (56-45) and Clinton Township Chippewa Valley (69-48).
Quarterfinals: Win over No. 8 Waterford Kettering (58-54).

No. 10 Inkster (21-5)
Inkster will attempt to become the first back-to-back Class A winner since Lansing Everett won in 2000 and 2001. With first-year coach Ollie Mitchell at the helm, should the Vikings repeat they would be the first first team in any Class to ever win back-to-back titles with two different head coaches.
Districts: Wins over Romulus (67-63) and No. 7 Westland John Glenn (59-56, OT)
Regionals: Wins over Temperance Bedford (34-29) and Dearborn Edsel Ford (83-62).
Quarterfinals: Win over No. 4 Detroit Martin Luther King (59-40).

No. 1 Grand Haven (25-1)
It's Grand Haven's second straight trip to state semifinals. The Buccaneers lost to Detroit Renaissance in the final four last year. Its only loss this season was to No. 6 East Kentwood back in December.
Districts: Wins over Muskegon Reeths-Puffer (58-21), Muskegon (68-28) and Muskegon Mona Shores (61-31).
Regionals: Wins over Petoskey (52-23), Grand Rapids Northview (56-37).
Quarterfinals: Win over East Lansing (42-40, 2OT).