Posted on
Sat, Jun 8, 2013 : 5:25 p.m.
Small ball pays off big for Milan baseball en route to regional championship
By Pete Cunningham
It took a couple of suicides, but the Milan High School baseball team is still alive.
Robert Barnier laid down a bases-loaded suicide squeeze bunt in the bottom of the eighth inning to give the Big Reds 2-1 win over Tecumseh in the Division 2 regional championship at Carleton Airport High School Saturday.
Though it was scored as a passed ball, Milan's tying run in the bottom of the seventh to force extra innings came with a batter squared up for a suicide squeeze as well.
Milan's game-tying run:
"Our guys don't get to hit (batting practice) unless they get their bunts down and we do it a lot," said Milan coach Adam Gilles.
More coverage: Milan vs. Tecumseh Boxscore | Milan vs. Riverview Boxscore | Bracket
Barnier was a testament to that philosophy. He's Milan's No. 4 hitter and by no means a speedy along the base paths, but he received the squeeze call right away. He fouled off his first attempt and after missing on a changeup received the bunt sign again when not getting the bunt down, would have meant an out.
"I had all the faith in the world that he was going to get it down," Gilles said.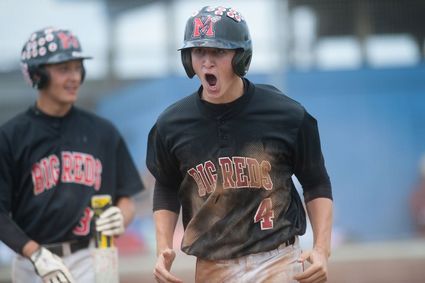 Courtney Sacco | AnnArbor.com
Gilles was right. Barnier got the bunt down and when Tecumseh relief pitcher Jacob Britt couldn't field the bunt cleanly the celebration was on at home plate.
"It got past the pitcher and I knew we won right there," Barnier said, clutching the regional championship trophy as if it'd run away if he didn't. "(Gilles) has faith in me and I love this team to death I'm glad we won this."
Sophomore pitcher Thomas Lindeman went all eight innings for Milan and managed to limit the high-powered Indians to just one run despite their nine hits. Lindeman struck out three and walked two.
"He's a good pitcher, we just didn't get the big timely hits like we needed to get in a game like this," said Tecumseh coach Tom Bullinger.
Banier's game-winning suicide squeeze:
Gilles said the suicide squeeze call with two strikes was done in part to catch Tecumseh off guard. Bullinger said he actually wasn't surprised by the call after Milan had squared to bunt with two strikes earlier in the game.
"We knew that they might. It's just tough because Jake's got a bum ankle out there and he can't get off the mound maybe like he'd want to and just didn't field the ball," Bullinger said.
Britt, who will play a the University of Toledo next year, had turned his ankle in practice and was limited to designated hitter duty all afternoon before relieving Andrew Wood in the bottom of the seventh. Tecumseh led 1-0, but with Milan threatening with two men on and one out, Bullinger turned to Britt to try to close out the game.
But Zach Alliston was able to score from third base on a passed ball as James Carpenter squared up for a bunt to tie the game. Alliston pinched hit for a single earlier in the inning in his only at bat of the day.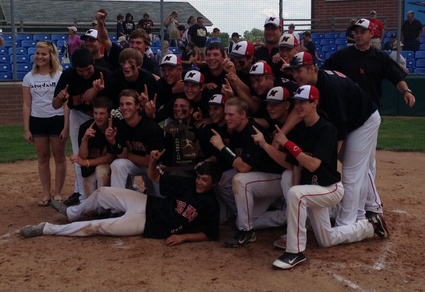 Pete Cunningham | AnnArbor.com
"They don't see a lot of small ball in the SEC because there's dominant pitchers, dominant hitters, great defense. We do it a lot and it was really going through my head that we were going to lose 1-0 on a squeeze. We gotta get this back somehow," Gilles said.
Wood gave up seven hits and struck out two in six-and-one-third innings of work with two strikeouts. Britt was credited with the loss after giving up two hits in one inning of relief.
It was small ball that put Milan into the final as it broke open a 1-1 game with Huron League rival Riverview with three runs in the top of the seventh in the 4-1 win. Milan bunted four times in the inning, reaching base three times. Tecumseh beat Battle Creek Harper Creek 5-0 in the other semifinal.
The Big Reds advance to play Coldwater in the Division 2 state quarterfinal at Bailey Park in Battle Creek on Tuesday where they hope to return for next weekend's state championships.
"We're still playing. We're going to keep going out with a bang," Lindeman said. "It feels good for those three seniors in there."
Pete Cunningham covers sports for AnnArbor.com. He can be reached at petercunningham@anarbor.com. Follow him on Twitter @petcunningham.