Posted on
Fri, Oct 21, 2011 : 9:59 p.m.
Pioneer wins, Dexter advances, Ypsilanti delayed, Chelsea eliminated in soccer districts
By Jason Idalski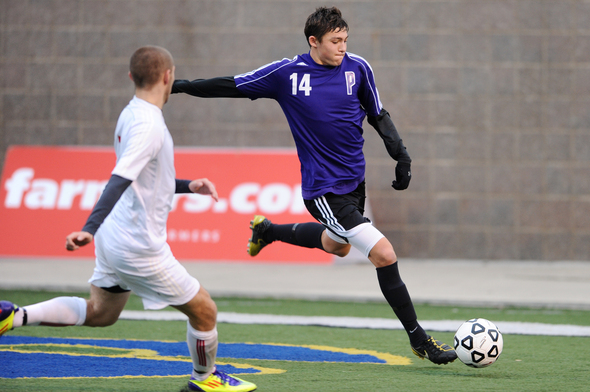 Melanie Maxwell I AnnArbor.com
The Pioneer High School soccer team defeated Temperance Bedford 4-0 in a Division 1 MHSAA district final at Saline High School on Friday night.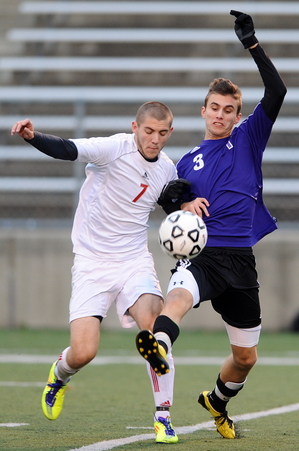 Melanie Maxwell I AnnArbor.com
The district champion Pioneers won't have to get acclimated to a new field for regional play, as the next round of the playoffs will be hosted at Saline, as well.
Pioneer takes on Detroit U-D Jesuit at 5 p.m. Wednesday. Jesuit beat Livonia Churchill 1-0 on Friday.

DEXTER 4, EATON RAPIDS 0
Led by senior Ian St. Pierre, the Dexter boys soccer team beat Eaton Rapids 4-0 Friday night to advance to the Division 2 boys district final at Mason High School. St. Pierre scored twice and added an assist.
There's not much time to celebrate. The Dreadnaughts will face Mason, 2-0 winners over Chelsea, at 1 p.m. Saturday.
"(St. Pierre) is stepping it up and he's got the ability to do it," said Dexter coach Scott Forrester.
Senior Brett Kokkales opened the scoring on a free kick in the fourth minute, from about 25 yards out. Thanks to plenty of movement in front of the keeper, Kokkales was able to bend the kick into the Eaton Rapids net.
St. Pierre would then strike in the 33rd minute giving Dexter a 2-0 lead at halftime. In the 55th minute, St. Pierre took a free kick that was stopped by the Eaton Rapids keeper, but Bobby Toph followed the shot and was able to redirect the ball into the net. St. Pierre would add his final tally in the 78th minute.
DEXTER 4, EATON RAPIDS 0
SCORING SUMMARY
1st Half
D - Brett Kokkales, 4th minute
D - Ian St. Pierre, 33rd minute
2nd Half
D - Bobby Toph (St. Pierre), 55th minute
D - St. Pierre, (Dylan Polley), 78th minute


Forrester thought his team had an advantage going into the game, but he didn't think it would be his offense.

"I thought we had the edge with how solid our defense can play," Forrester said. "I knew that biggest edge we would have, would be our defense."

The win moved the Dreadnaughts to 10-6-5 on the year. Forrester said his team must bring their "A" game against Mason, which was the top-ranked team in Division 2 for the majority of the season. The Bulldogs are currently ranked No. 3.


YPSILANTI GAME POSTPONED

The Ypsilanti High School soccer team's first district final appearance was put on hold Friday. The game, originally scheduled for 5:30 p.m. against district host New Boston Huron, has been moved to 1 p.m. Saturday.