Posted on
Sun, Dec 4, 2011 : 5:58 a.m.
Michigan commit Drake Johnson is Washtenaw County football Player of the Year
By Pete Cunningham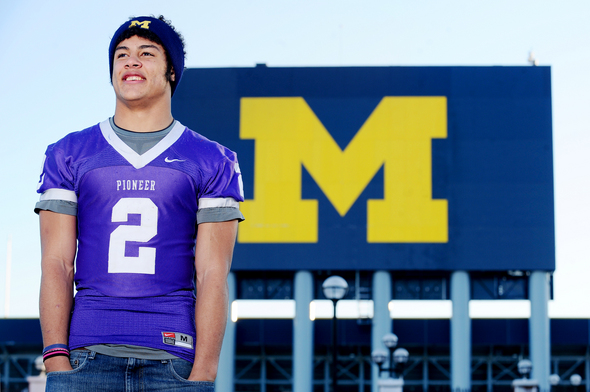 Melanie Maxwell | AnnArbor.com
As a child, Pioneer High School senior running back Drake Johnson would roam the among giants at University of Michigan football games. The occasional sideline pass is one of the many benefits he has enjoyed as the son of the Wolverines cheerleading coach, Pam St. John.
Johnson remembers being 8 years old and having the same competitive desire he does now, though not the same sense of self-preservation.
He'd look up at the towering players in winged helmets and yell, "I'm going to be better than all you guys one day."
The players were nice enough not to crush him. And soon, he'll have the chance to prove himself.
After rushing for 2,800 yards and scoring 38 touchdowns while leading Pioneer to a 9-3 record, Johnson was a unanimous selection for the Associated Press Division 1-2 all-state team and earned a scholarship from Michigan.
The soon-to-be Wolverine is also the AnnArbor.com Washtenaw County Player of the Year.
ANONYMOUS SUPERSTAR
Johnson plays football and runs track for Pioneer, but attends Community High School, a public magnet school that offers college prep courses, but not athletics.
If there's one rule that puts into perspective how different Community is from a typical high school, it's the hall pass rule. There are no hall passes at Community.
"If a student needs to step out of class, they can. They do what they have to do, then they come back," says dean Jennifer Hein, as if that's just the way it works everywhere.
Hein says one-third of Community's students are athletes, but there are no articles boasting their athletic achievement taped up in the hallways. That would cover the vibrantly colored student-painted murals.
"The good artists are the ones who get the attention here. They're the popular ones," Johnson says as he points out his favorite paintings in the hall.
Johnson's been to just one pep rally during his high school career. After a big Friday night when he rushed for more than 300 yards (he did it three times this year) or scored more than three touchdowns (eight times), Monday morning wouldn't be filled with adulation or fanfare.
At Community, he wasn't Drake Johnson the running back. He is just plain old Drake, and that's OK by him.
"People here know that I play football, but they don't necessarily care," Johnson says. "It's kind of an escape. It's coming back to reality, it's like football is kind of just…sports."
"I don't just have friends at Community because I play football. It's because of my personality."
When Johnson got into Community -- Ann Arbor Public School students must enter a random lottery to attend -- he didn't want to go, but his father, Michael Johnson, made him.
"I told him as soon as Pioneer or Huron can say they graduate 100 percent of their black students, you can go there," Michael says. "Until they can say that, you're going to Community."
After his freshman year, Michael gave Drake the choice, but he didn't want to leave.
The anonymity Johnson now enjoys is all about to change. Have just one game for the Wolverines like the dozen he had for Pioneer this year, and he won't be able to walk down State Street. Even before he ever plays a down, the team-issued sweat suit alone will turn heads in the Diag.
That's OK by him, too.
AN OFFER HE COULDN'T REFUSE
After a minute with Johnson, it's very clear that he's a unique individual. Cookie-cutter answers to a reporter's questions -- the kind middle schoolers learn by watching too much ESPN -- aren't his thing.
Ask Johnson what he's thinking and he'll tell you exactly that, and might even act out his thought process with a few self-deprecating jokes in between.
It's fitting that someone so outgoing took a less-traveled route to college football recruitment.
It's not enough to send game film to coaches anymore. Nowadays, prospects traverse the country to camps put on by recruiting services hoping to get noticed by the right people. Prior to junior year is when most recruits get noticed.
Johnson -- a two-time MHSAA Division 1 state track champion in the 110-meter hurdles -- instead competed in elite track competitions before his junior year. This past summer he went to football camps, but got a common response.
"People were like, 'well, where were you last year?'" Michael said. "He was very frustrated after the summer.
"I was like, listen, there's another way to this and it's the hard way," Michael said. "Rush for over 2,000 yards, 30 or 40 touchdowns, people are going to take notice. I told him, 'I don't know if it's going to be Michigan, but someone will.'"
Drake asked his father to help him train. To have the type of season he needed to get to his dream school, he knew he had to be bigger, stronger and faster. So they did two training sessions a day, working on all of the above.
Johnson entered his senior season 20 pounds heavier than his junior year, but faster and better conditioned.
The work paid off in the fall. Pioneer's new coach, Paul Test, ran an offense where Johnson was the focal point of a downhill rushing attack. Johnson's success running inside dispelled the notion that he was just a track guy who could outrun people in the open field.
He averaged 28.5 carries a game and 8.15 yards per carry this season, and after his work over the summer, says he never felt worn out after games.
Four days before Pioneer's season-ending loss to Detroit Catholic Central in a Division 1 regional championship game, Johnson finally got a call from longtime Michigan running backs coach Fred Jackson offering him a scholarship.
It was just the second scholarship offer Johnson had received. The other, from Eastern Michigan, came before the season began. It didn't take long for the lifelong Wolverines fan to accept.
"I'm very excited for him, very proud for him," says Test. "He's going to make a difference over there (at Michigan). He's a special athlete."
While the uncertainty of having to wait so long for an offer frustrated Johnson, he takes pride in the path he chose to college football.
"I didn't go around to these camps and have to show out. I kind of just did it. I proved that I was the best on the field. Not at these camps that are like 'Oh, he can go through cones quickly, he can jump high.' It was on the field," Johnson says. "I didn't have to go buy stars."
Johnson will soon face the challenge of proving he's worthy of that scholarship. A new round of critics are already saying he runs too high, is too tall to be a running back, or point out he's just a three-star on the main recruiting sites.
Johnson has heard it all and he's OK with that, too.
"Having to earn that scholarship, it brought me a respect for what I'm going to have to do at the next level," Johnson says. "Things aren't going to be given to you."
Pete Cunningham covers sports for AnnArbor.com. He can be reached at petercunningham@annarbor.com or by phone at 734-623-2561. Follow him on Twitter @petcunningham.