Posted on
Mon, Aug 27, 2012 : 5:35 a.m.
Lincoln vs. Huron far ahead in AnnArbor.com high school 'Game of the Week' poll, still time to vote
By Pete Cunningham
AnnArbor.com file photo
The defending Division 2 state champion Birmingham Brother Rice High School football team is coming to Ann Arbor on Thursday, but the Warriors are up against a foe not even they could be prepared for.
It's "Splitter Nation."
The supporting community of the Lincoln High School Railsplitters football team, aka Splitter Nation, finally had something to rally behind last year when Lincoln went from winless to its first ever postseason berth. Games that used to be sparsely attended on the regular -- and Game of the Week polls that would have been ignored -- are now dominated by the blue and silver support group.
Since opening voting in the AnnArbor.com/MLive.com Game of the Week football poll for Week 2 on Friday, 440 votes have been cast and 348 of them (79.1 percent) are from people who want to see the Lincoln (1-0) vs. Huron (0-1) game at Riverbank Stadium on Friday be treated as the area's "Game of the Week."
No other game has even reached 60 votes.
In second place with 56 votes (12.7 percent) is the Birmingham Brother Rice (0-1) vs. Pioneer (0-1) game, scheduled for Thursday night at Hollway Field. Brother Rice is fresh off of a loss in Week 1 to defending Division 1 state champion, Cass Tech. Pioneer is also coming off of a loss in Week 1, 35-7 to Warren De La Salle.
In third place in the voting is the Dexter (0-1) vs. Skyline (0-1) game, which has 19 votes (4.3 percent) and is scheduled for Thursday night at Skyline High School where the Eagles will attempt to get their first home victory in program history.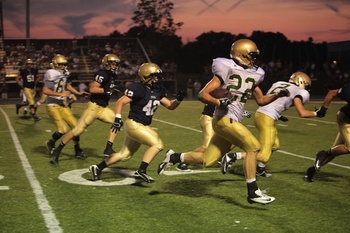 Chris Asadian for AnnArbor.com
A distant fourth is Thursday night's Chelsea (0-1) vs. East lansing (1-0) game with 17 votes (3.9 percent). Both squads being perennial powerhouses isn't getting them any love from the voters, but if Chelsea could guarantee as beautiful of a setting like the one the sunset provided in last week's game against Jackson Lumen Christi, the Bulldogs might get a lot more votes.
A reminder that the winner of the poll gets the Super Bowl treatment from AnnArbor.com with two reporters and a photographer at the game. A live chat will also take place, which readers can participate in on-site by downloading an application for their iPhone or Android mobile device
Voting closes at 6 p.m. on Tuesday, so there's still plenty of time to catch the Splitter Nation, or support it.
Pete Cunningham covers sports for AnnArbor.com.