State-ranked Pioneer and Saline to square off in high school football 'Game of the Week'
Posted on Tue, Sep 11, 2012 : 11 p.m.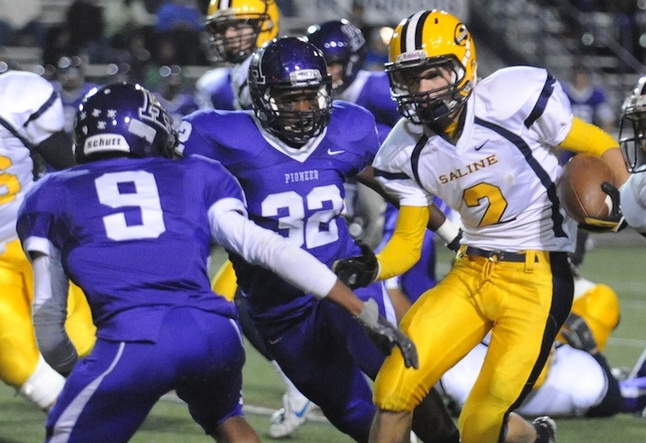 AnnArbor.com file photo

The AnnArbor.com "Game of the Week" poll is officially closed and it has confirmed what I have suspected for a while.

You guys know your football.

Being the informed, educated people that you are, you chose the Saline vs. Pioneer game at Saline High School as the Game of the Week and said game pits probably the two best teams in Washtenaw County against one another.

With 569 of the 933 total votes (61 percent) Saline vs. Pioneer edged out Huron vs. Bedford (178, 19.1 percent), Ypsilanti at Chelsea (146, 15.7 percent), Manchester vs. Addison (20, 2.1 percent) and Britton Deerfield vs. Whitmore Lake (20, 2.1 percent).

We're not the only ones who think highly of Saline and Pioneer. My esteemed colleagues of the Associated Press released the first football rankings of the season and both teams are just outside of the Division 1 top ten -- Saline at No. 11 and Pioneer at No. 13.

They were the only two Washtenaw County Teams to receive any votes in any division.

Under first-year head coach Joe Palka, Saline is off to a 3-0 start and the offense is averaging 44.6 points per game. Leading the way is Palka's son Tyler with 204 yards passing and 76.7 yards rushing per game.

But coach Palka knows the Hornets haven't seen a defense like Pioneer's, yet.

"They're very, very good," Palka said of Pioneer's defense. "We need to give them a multitude of formations and stay balanced, but we know it's not going to be easy."

Pioneer's opponents have been on the opposite ends of the spectrum in the first three weeks with powerhouses Birmingham Brother Rice and Warren De La Salle beating Pioneer in the first two weeks and Pioneer absolutely dominating struggling Dexter last week.

No matter the quality of opponent, though, Pioneer has been solid defensively.

Palka believes the early stages of Friday's game could be slow moving and said it might not be until the second half that the offense starts firing, it if does at all.

"We're going to have our hands full," Palka said. "When we get opportunities, be it late in the game or early, we're going to have to capitalize on them."

An added wrinkle in the matchup is new Pioneer offensive coordinator, Mike Glennie, was the coach at Saline for ten years before resigning last season. Like ex-Dexter coach Tom Barbieri who is an assistant coach at Pioneer now, Glennie still teaches the students he used to coach in the district.

Glennie stepping down didn't have the accompanying drama as Barbieri's firing, but his familiarity with Saline's personnel, and the fact that he's been a member of the Saline football community for so long, could be an interesting dynamic in a game that doesn't lack them in the first place.

Check back on Thursday to predict a winner for this week's Game of the Week and every other high school football game involving Washtenaw County teams in the AnnArbor.com "Beat Pete" contest.

Bonus Game of the Week

The Father Gabriel Richard vs. Pontiac Notre Dame Prep game won the MLive.com Metro-Detroit Region Game of the Week poll. This means that game will get the same Super Bowl treatment as the AnnArbor.com Game of the Week, just from our partners at MLive Media Group.

So a separate live chat and round of stories will come from that game in addition to AnnArbor.com's extensive coverage of the Saline vs. Pioneer game.

Future Games of the Week
Over the past week, I've been asked via email, Twitter, phone and in the comments section below what the rationale behind including some games on Game of the Week versus others. In some of the emails I've been accused of bias against certain schools and in favor of others and it was suggested this is because myself and other staff members are alumni of the schools we do "favor".

It is with the utmost sincerity that I promise you I report without bias for or against any school in Washtenaw County, or anywhere else for that matter.

Plus, I grew up in Tecumseh, so in my youth I hated ALL of the schools in the AnnArbor.com coverage area equally.

That said, if there is a game you feel should be included in the Game of the Week, speak up.

Email me.

Tweet at me (or to me, or with me...whatever the correct Twitter terminology is).

Post in the comments section below or send smoke signals. One way or another, just let me know.

The polls open every Friday, so look at your team's schedule ahead of time and email me before then so the game can be included in the next week's poll.

Game of the Week coverage

AnnArbor.com will give the Game of the Week winner its Super Bowl treatment, which will include two reporters covering the game, a live chat that you can follow from your iPhone or Android device, and a photo gallery as well.